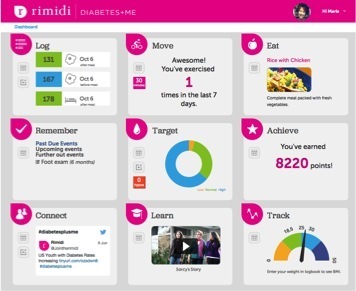 By the year 2050, one in three Americans will have Diabetes. To help relieve the anxiety and simplify the management of diabetes. Cox Enterprises has announced a strategic investment in Atlanta-based Rimidi, a digital health company focused on diabetes and other chronic conditions. The funding will be utilize to accelerate expansion of their enterprise diabetes management solution and further expansion into additional markets.
Rimidi's flagship product, Diabetes+Me is a cloud-based enterprise solution for diabetes management empowering patients and providers with the knowledge and tools necessary to successfully control their diabetes and restore the quality of patients' lives. With the platform, patients have the ability to track their health and lifestyle data as well obtain medical and nutritional information about their condition.
Clinicians are provided with a clinician dashboard presenting the patient data with a decision support feature to help optimize medication choices. Clinicians can explore treatment decisions taking into account the unique characteristics of each patient. The platform's population health management functionality enables the care team to to develop a comprehensive diabetes care plan together with their patients, support their self-management and track their progress towards goals. 
Additionally, Rimidi has received funding from SOURCE, a partnership between the Hitachi Foundation, Investor's Circle and Village Capital and JumpFund. 
The investment is not Cox's first foray in digital health investing.  In February, Cox Communications partnered with Cleveland Clinic to form Vivre Health, a groundbreaking strategic alliance to bring world-class healthcare to the home through innovative telehealth and home health solutions. The company also announced an investment in telehealth kiosks provider HealthSpot. 
"Cox Enterprises is excited to work with Rimidi," said Alex Taylor, Cox Enterprises' executive vice president in a statement. "We like supporting local entrepreneurs like Lucie, and we are excited to see her transforming our healthcare system for the better. Data and analytics will help our communities be healthier and happier – some of the same reasoning that led us to invest in HealthSpot and set up Vivre, a joint venture with Cleveland Clinic."