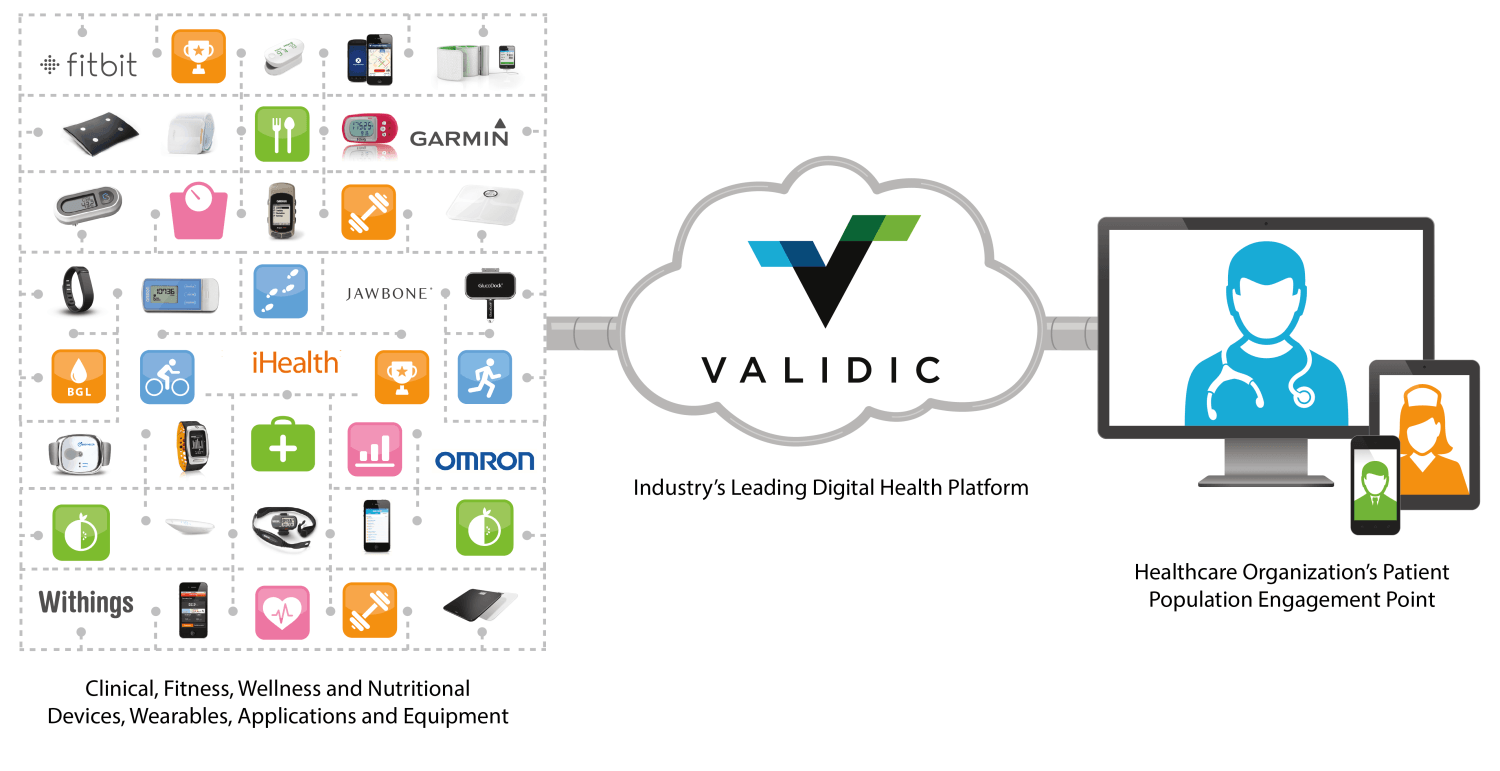 Validic, a leading digital health platform for aggregating health data, announced today that it has secured a $12.5 million Series B round led by Kaiser Permanente Ventures, the corporate venture capital arm of Kaiser Permanente. The additional capital will be used to  build out their team, product offerings, client and device reach. 
In the current healthcare environment, many companies are trying to solve the problem of integrating, managing and updating connections to the rapidly expanding ecosystem of mobile health technologies. Validic has helped its clients overcome this challenge by successfully delivering secure, standardized and actionable data for integration into clients' health technology systems, electronic medical records, patient engagement portals, and wellness applications. 
Since launching Validic in 2010, the company has grown its client population reach to over 160 million lives in 47 countries and now integrates with over 175 fitness and clinical devices and applications.  Some of the integration partners announced over the last year have been Adidas, Omron, Misfit, A&D Medical, Qardio, Fitlinxx and LifeFitness. The company recently announced an integration to Apple HealthKit in April.  
Powering Patient Data Integration
Validic continues to add clients within a variety of healthcare segments powering their patient data integration, including pharma,providers, insurance companies, wellness and healthcare technology companies. Two of those leading healthcare technology companies include Cerner and MEDITECH, both of which are utilizing the Validic platform to integrate mobile health and in-home clinical device data into patient portals. 
In 2014, Validic also announced a commitment to integrating clinical devices and applications. Reinforcing this focus, Validic acquired Silicon Valley-based Infometers in July of 2014. This acquisition enabled for new SDK capabilities for accessing previously data-locked clinical Bluetooth® LE devices. With this technology, Validic launched the VitalUp application in September with 14 clinical integrations. These integrations were primarily blood glucose devices, clinical grade heart rate monitors and blood pressure monitors. In total, 63 percent of Validic's device partners are clinical in focus, the balance are fitness.
"With millions of individuals now using wearables, applications and clinical in-home devices to track and manage their health, it is more important now than ever that this data is accessible to healthcare providers. We have built an enterprise digital health platform to power this integration for healthcare companies allowing them to focus on driving their core technologies and programs, which are going to be vital to the future success of healthcare. With this investment, we will continue to build out our team and product offerings to fuel the utilization of digital health data to transform healthcare, " said Ryan Beckland, CEO and co-founder of Validic.