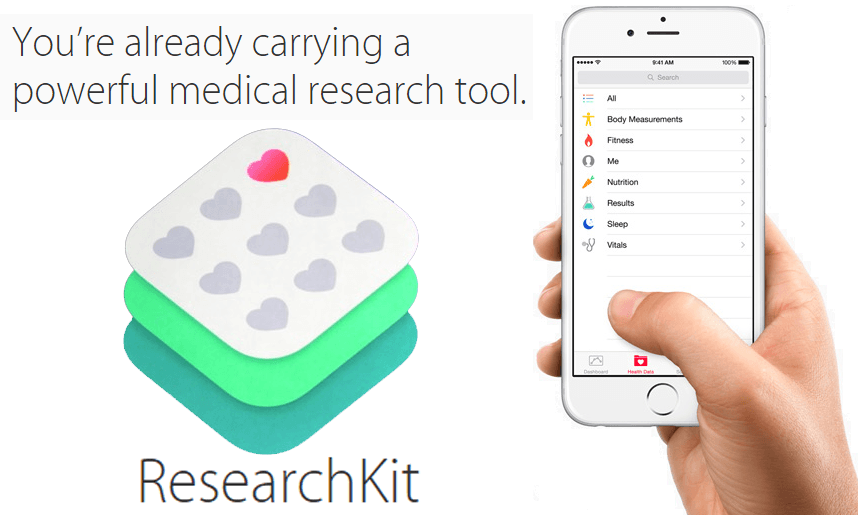 Apple has announced that ResearchKit, an open source software framework designed for medical and health research that helps doctors, scientists and other researchers gather data more frequently and more accurately from participants using mobile devices, is now available to researchers and developers.
The platform was first launched last month with five inaugural research apps developed using ResearchKit study asthma, breast cancer, cardiovascular disease, diabetes and Parkinson's disease, and have enrolled over 60,000 iPhone® users in just the first few weeks of being available on the App Store.
Starting today, medical researchers all over the world will now be able to use ResearchKit to develop their own apps and developers can also contribute new research modules to the open source framework. When granted permission by the participant, ResearchKit apps can access data from advanced iPhone sensors like the accelerometer, gyroscope, microphone and GPS to gain insight into a participant's activity levels, motor impairments, memory and more. ResearchKit works seamlessly with HealthKit™, a software framework Apple introduced with iOS 8 to provide developers the ability for health and fitness apps to communicate with each other.
ResearchKit also eliminates handwritten surveys and lengthy forms — and the expensive data entry and storage that come with them for medical researchers. By allowing participants to complete tasks or submit surveys right from iPhone, ResearchKit's initial customizable modules address the most common elements found in research studies—participant consent, surveys and active tasks. 
– Participant consent: Participant consent is a critical element to research studies, and with ResearchKit researchers can access a visual e-consent template that can be customized to explain the details of the study and obtain participant signatures. This module makes it easy for the researcher to include elements such as video segments explaining the study and an interactive quiz to confirm the participant's understanding.
– Surveys: The survey module provides a pre-built user interface that makes it easy to customize questions and answers for study participants to complete and immediately share with researchers. 
– Active Tasks: The Active Task module enables researchers to gather more targeted data for their study by inviting participants to perform activities that generate data using iPhone's advanced sensors. Initial Active Task modules include tasks to measure motor activities, fitness, cognition and voice, and with the framework available as open source, the research community can contribute even more active tasks to ResearchKit.
SOURCE: Apple