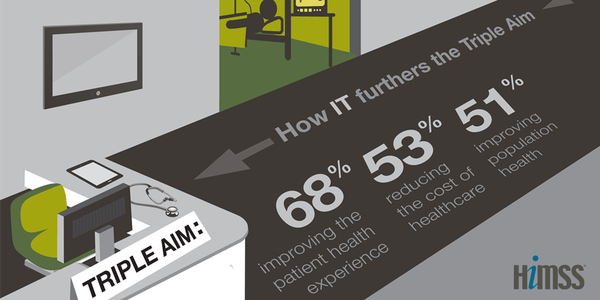 Today, at the HIMSS Annual Conference and Exhibition in Chicago, HIMSS released the results of the 26th Annual HIMSS Leadership Survey. The survey of more than 300 participants conducted between January 9, 2015 and February 24, 2015, examined key trending issues impacting the business of healthcare including patient considerations, security concerns, insurance models and policy mandates.
Here are 11 key findings from the survey:
1. 72 percent of respondents report that consumer and patient considerations, such as patient engagement, satisfaction and quality of care will have a major impact on their organization's strategic efforts over the next two years.
2. 81 percent of respondents indicated IT is considered a highly strategic tool at their organizations
3. 76 percent noted that their current IT plan fully supports their overall business plan.
Participants also answered questions related to how IT was being used to facilitate the goals of the Triple Aim – a framework developed by the Institute for Healthcare Improvement that describes an approach to optimizing health system performance. The survey revealed:
4. More than two-thirds of respondents (68 percent) indicated an improvement within the patient health experience
5. More than half also felt that IT was reducing the cost of healthcare (53 percent) and improving population health (51 percent).
The Leadership Survey also indicated that IT is supported from the top down:
6. 79 percent of respondents indicated their organization's executive team is highly supportive of IT
7. 72 percent of respondents indicated their organization's Board of Directors was also on board with IT growth within their organizations.
8. 74 percent of respondents indicated that IT is considered a critical tool for improving care coordination.
9. 87 percent of respondents stated that their organization provided a patient portal through which patients can access information.  
10. Almost two-thirds of respondents indicated that their organization would increase their IT operating budget in the next year.
11. In addition, 49 percent indicated that their organization expected to increase the number of IT staff at their organization in the same time frame.
To download the complete HIMSS report, visit: http://www.himss.org/2015-leadership-survey