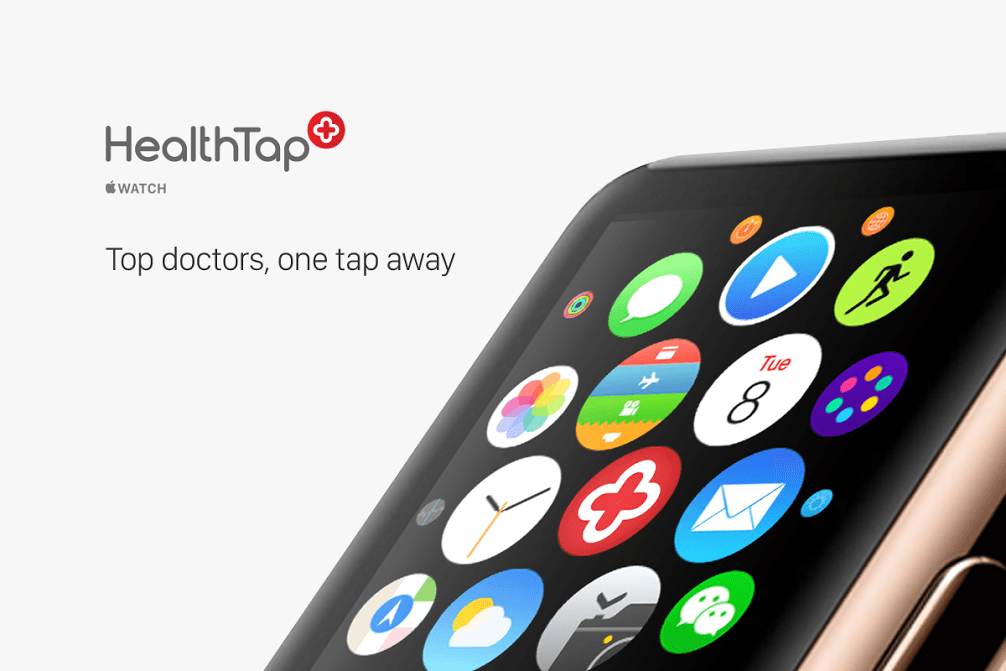 Today at HIMSS15, HealthTap unveiled the world's first Apple Watch healthcare app called DocNow, providing immediate and affordable access to medical care to everyone with just a tap of a button. Dubbed as the world's first "Affordable-Care App" for Apple Watch, the app providing consumers with instant and affordable access to top U.S. doctors with just a tap on your wrist.
How It Works
The HealthTap DocNow App for Apple Watch connects patients immediately to a primary care doctor from a network of more than 68,000 top U.S. doctors for a video consult, all at the tap of a button. With consults at just $2.99 per minute, affordable healthcare is now available to people who need instantaneous access to doctors. 
With one easy tap you, can also ask question by voice and get free text answers from doctors delivered succinctly right to your Apple Watch. With HealthTap's app for Apple Watch, patients can also quickly log how they are feeling every day so doctors can track their progress, check in with them, and invite patients back for follow-up care if need be.
Best of all, with your permission, relevant health data from the Apple Watch is securely integrated with the your healthcare experience on HealthTap, so doctors can provide you with better advice, more personalized care, and a customized course of action.
Key features of the the HealthTap DocNow App for Apple Watch includes:
– Immediate access — See a doctor instantaneously 24/7 by tapping on your Apple Watch to access immediate live HD video consults from your iPhone. Doctors can provide useful advice as well as recommend and prescribe appropriate treatments, including medications that can be made available at any local pharmacy of choice, or via home delivery.  
– Affordable price – Speak with a doctor via HD video chat, or voice, for as little as five minutes for just $2.99 a minute, with no subscription fees.  
– Ultimate convenience — Connect with a doctor instantly. No tedious forms, insurance hassles, or multiple calls and waiting on hold to book an appointment.
– Complete safety — No risk of catching germs in a doctor's waiting room.
DocNow App Benefits for Doctors
For doctors, HealthTap developed a first of its kind doctor app for the Apple Watch. Now, U.S.-licensed doctors in good standing who have been admitted to the HealthTap Medical Expert Network can rate and review medications, guide millions of patients towards the best treatments, and view what other doctors are saying about each treatment quickly and conveniently, all by simply tapping their wrists.
Doctors can also get reminders and manage their Virtual Practices for free right from their Apple Watch. They can easily keep track of upcoming appointments and even update their virtual office hours on the go.
HealthTap believes that immediate, ubiquitous access to healthcare and to doctors will transform the industry as well as create a new comprehensive health experience for millions everywhere.
For more information about the HealthTap App for Apple Watch, visit healthtap.com/apple_watch or download the app for free from the Apple App Store.