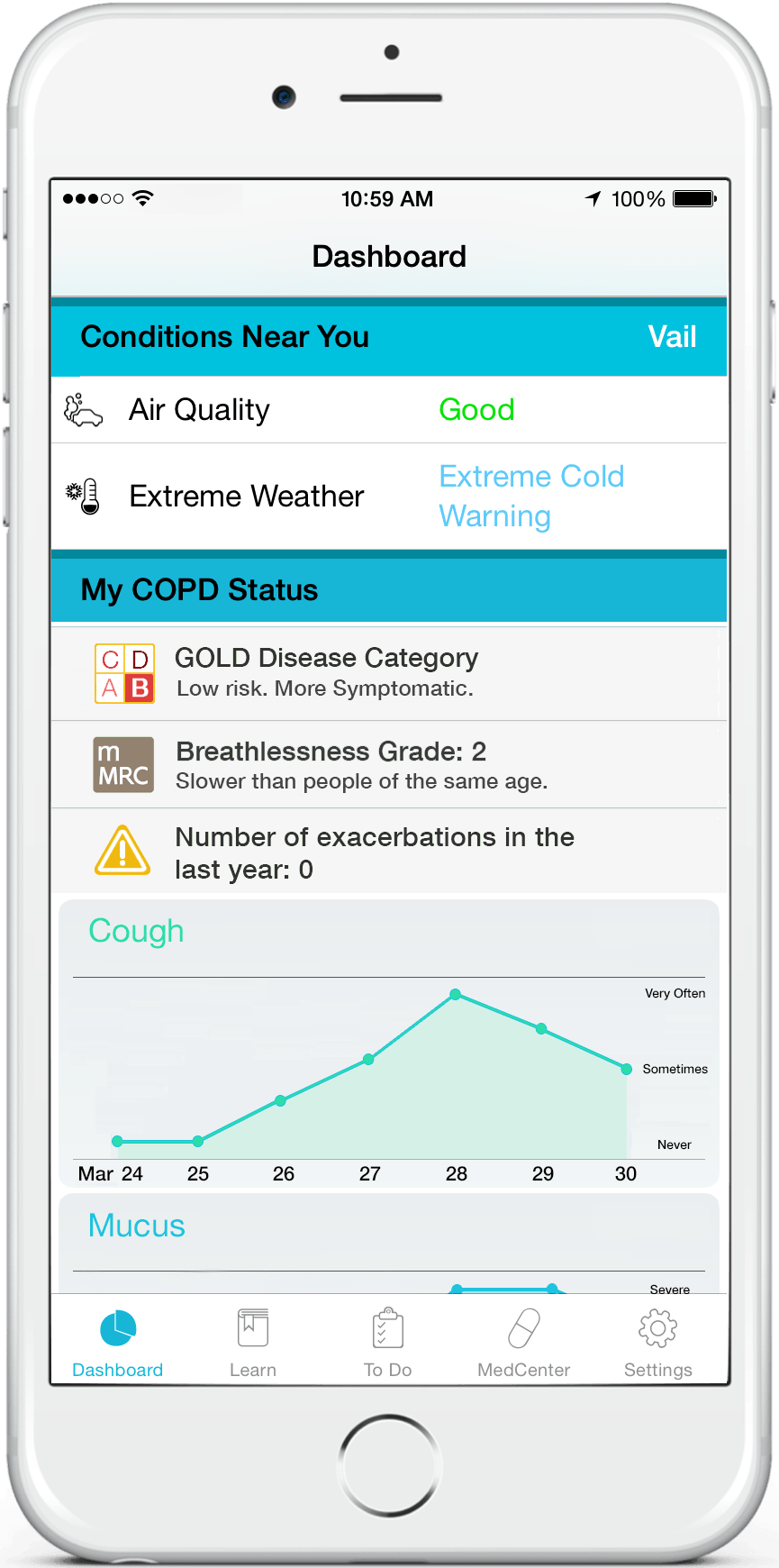 LifeMap Solutions, a digital therapeutics provider and subsidiary of BioTime, Inc. has launched a pilot program for COPD Navigator, an Apple HealthKit-compliant iOS app that helps patients monitor and manage the symptoms of COPD with Mount Sinai. For the pilot, LifeMap will partner with researchers from the Icahn School of Medicine at Mount Sinai and with COPD experts from the Mount Sinai – National Jewish Health Respiratory Institute to work with patients who use the COPD Navigator iPhone app with the goal of improving their self-management of COPD.
COPD Navigator App Overvew
COPD costs the United States about $50 billion annually and is believed to affect more than 24 million people in the United States alone. Expensive treatments can be avoided if patients can recognize the signs of an impending exacerbation and take action immediately. By enabling patients and care teams to intervene earlier, COPD Navigator aims to help payers control the costs of chronic disease management while improving patient quality of life.
COPD Navigator app tracks patient data that includes symptoms, medication and treatment adherence, and overall quality of life. This information is presented in an easy-to-understand and configurable graph that empowers the patient to recognize patterns in their own health history, as well as to send this information to their doctor. Additionally, the app helps patients avoid environmental risk factors by providing real-time alerts about local air quality and extreme weather, and it delivers educational content from leading respiratory hospital, National Jewish Health.
"Smart" Inhaler Technology
The COPD Navigator app is just the first component of LifeMap's larger COPD management platform, which also includes Bluetooth-enabled inhaler technology and a clinician dashboard for care providers. Through its support for Apple's HealthKit technology, COPD Navigator accepts inhaler usage information from any HealthKit-compliant, Bluetooth-enabled, "smart" inhaler device. In the pilot program at Mount Sinai, LifeMap Solutions is providing a smart device of its own design, allowing the app to know automatically when the patient has used their inhaler. This inhaler-usage information helps the app track medication adherence and identify potential environmental and behavioral triggers of exacerbations, which are episodes in which COPD symptoms suddenly get much worse. Identifying trends and individual triggers can help patients improve the overall quality of their health and avoid circumstances that worsen their condition.
Clinician Dashboard
The other major component of LifeMap's COPD platform, the clinician dashboard for care providers, is a HIPAA-compliant tool that offers a view of the health status of their patient populations. Providers can also examine a specific patient's record to see that patient's care plan adherence and symptoms over time. They can flag high-risk patients, set rules for events-based alerts, and intervene early with the goal of reducing the risk of acute exacerbations. The clinician dashboard also enables care providers to send health alerts and reminders to their patients.
Leveraging Big Data to Unlock New Findings
As part of the company's partnership with the Icahn School of Medicine at Mount Sinai, LifeMap Solutions is working with the Icahn Institute for Genomics and Multiscale Biology to provide unprecedented amounts of secure, anonymized data to facilitate ongoing research into COPD and other medical conditions. The team plans to use this data to develop algorithms for predicting exacerbations, identifying effective interventions, and personalizing care plans based on demographics, lifestyle, and clinical history.
In addition to COPD Navigator, LifeMap Solutions plans to release more apps to address other chronic diseases in the near future. The COPD Navigator app is expected to be commercially available in the second half of 2015.