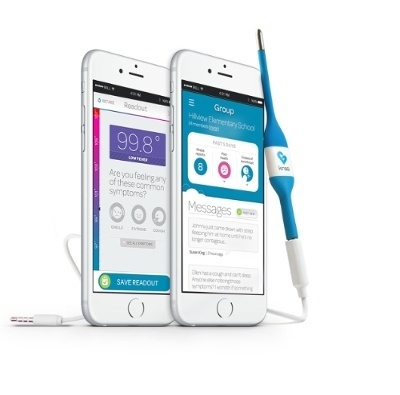 Kinsa, the company behind the world's first FDA-cleared smartphone-connected thermometer, has announced the launch of Kinsa Groups designed to help parents monitor and track the overall health at their child's schools. The Groups feature is currently available for public schools across the United States for its iOS and Android apps.The launch of the Groups feature brings Kinsa another step closer to its mission: to create the "health weather," a real-time understanding of the local health situation, to help communities better track, treat, and stop the spread of illness. 
How It Works
With Kinsa Groups, parents can monitor the overall health at their child's school to better track, treat, and stop the spread of illness at the earliest signs of symptoms. Parents can simply join their school's Kinsa Group to share symptoms via Kinsa's Smart Thermometer or through manual entry into the app to create an anonymously populated "health report card."
The report card for the school features how many children at the school are sick and what symptoms are going around, helping pinpoint whether symptoms like a sore throat are more likely linked to a common cold, flu, strep throat or something else. The goal is to enable parents to make informed decisions regarding when to take their children visit a doctor, as well as help doctors make a quick diagnosis.  
In-Group Messaging Feature
Additionally, the in-group messaging feature allows users to post messages, share a doctor's diagnosis or pose a health-related question to the groups. All messages and data are anonymous unless the user elects to provide their name – personally identifiable information isn't required at any point. Kinsa plans to roll out future functionality that would allow users to create their own custom groups, for example one for their neighborhood, close friends, or an office.  
The Kinsa Smart Thermometer is available at Apple and CVS stores across the United States as well as online at Amazon, Apple.com and Kinsa's website for $29.99. The Kinsa app is free and available for both Apple and Android-based devices on iTunes and Google Play.