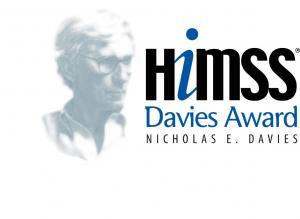 St. Clair Hospital of Mt. Lebanon, Pa. has been named a 2014 HIMSS Enterprise Davies Award recipient. Since 1994, the HIMSS Nicholas E. Davies Award of Excellence has recognized outstanding achievement of organizations that have utilized health information technology to substantially improve patient outcomes while achieving return on investment. 
St. Clair Hospital, an independent, 328-bed acute care facility that provides advanced, high quality healthcare to more than 500,000 residents of southwestern Pennsylvania, has realized a broad range of significant benefits through the use of information technology, while serving a patient population that includes a large ratio of Medicare patients.
Case Study Example
An example of health IT implementation success at St. Clair Hospital comes with the introduction of improved patient flow for patient registration in the Emergency Department (ED). This new workflow protocol included an ED status board and associated analytics, computer provider order entry (CPOE), electronic documentation and an electronic bed management system. In the first year after the introduction of these changes,
Waiting room times decreased from 49 to 4 minutes;

Time to see a physician decreased from 76 to 28 minutes; and

Patient satisfaction scores increased from the 14th to the 99th percentile with these two changes in the ED.
Key Accomplishments
In addition, other accomplishments with the introduction of health IT, St. Clair Hospital:
– Provided pneumonia vaccinations, since December 2012, to nearly 100% of at-risk inpatients.                 ​
– Avoided an average of 1,100 preventable medication errors per year since 2004. The hospital developed and implemented real-time automated charting for medication administration with dual-scanning technology that included barcoding and RFID.
– Generated incremental net revenue improvements over each prior year, through advancements in recovery of underpayments, increases in collections, and reduced denials. These achievements result from better use of the integrated EHR suite plus the patient accounting and scheduling systems.
Read the Davies Awards case studies on health IT implementation success submitted by St. Clair Hospital.
St. Clair Hospital Leadership Comments 
"St. Clair Hospital's team of clinicians and IT professionals has done a tremendous job of leveraging information technology to integrate efforts to improve quality and the financial bottom line at the same time," says Jonathan French, director of quality and patient safety, HIMSS North America. "St. Clair has significantly reduced hospital acquired infections and medication errors through the innovative use of IT. As a hospital that serves a large Medicare population, improved clinical outcomes have resulted in revenue capture and costs savings critical for the organization's financial health. The Davies Committee and HIMSS congratulate the St. Clair Hospital team for its focus on improving the health outcomes of their patient population through the effective use of health IT."
"We've had a long-term concentrated focus to better serve our patients through the use of systems and technology that enable us to deliver safer, higher quality care," said St. Clair Hospital vice president and chief information officer Richard J. Schaeffer.  "We are honored to receive the Davies Award, because it reinforces our strategy of investing in technology that can be embraced with an organizational mindset that the system will be improved on a continuous basis.  As the system becomes more innovative and predictive, it empowers our caregivers to deliver better outcomes to benefit our patients."
Chief Medical Information Officer Dr. Louis A. Civitarese added, "The key to leveraging the underlying power of the systems we have in place is in making them more usable and more intelligent.  This requires a strong collaboration among the organization's Clinical Leadership groups that participate in an iterative process to improve the value that our patients receive from information technology.  Combining the valuable and insightful input of the medical staff, with the meticulous and inventive work of nurses, pharmacists, analysts, and others, results in usable and innovative systems that help us deliver the best possible healthcare to the community."
St. Clair Hospital will present its story and receive the Davies Award at HIMSS15, April 12-16 in Chicago.  For more information on applying for the HIMSS Davies Awards of Excellence, visit the HIMSS Davies Award website.  The 2015 Davies submission cycle will be open from Jan. 1 – May 31, 2015.