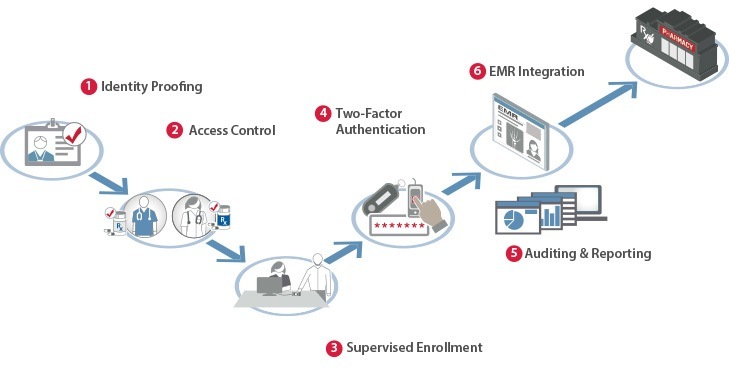 Imprivata, the healthcare IT security company, today launched Imprivata Confirm ID™, a comprehensive product that will enable a major shift from paper to electronic prescribing of controlled substances (EPCS).
Imprivata Confirm ID Overview
Imprivata Confirm ID simplifies adoption of regulatory requirements for EPCS, helping care providers address the workflow inefficiencies and potential for fraud caused by paper-based prescriptions. The solution creates a secure chain of trust by simplifying provider identity proofing, enabling supervised enrollment, and enforcing two factor authentication requirements while maintaining a comprehensive audit trail throughout the entire process. Imprivata Confirm ID elegantly simplifies EPCS workflows by:
– Integrating directly into the e-prescribing workflows of leading EMR applications. 80% of all hospital-based prescribers are in this ecosystem, making it easy and convenient for providers to prescribe controlled substances as part of their existing e-prescribing workflows. 
– Supporting DEA compliant fingerprint biometrics and tokens, providing must-have flexibility for all clinical workflows
– Automating authentication modality presentation – clinicians are only prompted for what is available and allowed
– Operating in any SSO environment as a stand-alone secure signing solution
– Comprehensive reporting and auditing. Imprivata Confirm ID helps organizations demonstrate and prove compliance with DEA and state-level EPCS requirements.  
"EPCS plays an important role in addressing America's opioid abuse epidemic by eliminating the exposure of a physician's signature and DEA number, which greatly reduces the risk of drug diversion or fraud," said Michael A. Lee, MD, Director of Clinical Informatics at Atrius Health. "EPCS also decreases errors and removes cumbersome workflows associated with high-cost, hand-written prescriptions, which increases productivity for prescribers and safety and convenience for patients. For providers working within a highly regulated environment, tools like this that can help achieve compliance, increase efficiency, and improve patient outcomes are invaluable."
Imprivata will host a webinar titled "Introducing Imprivata Confirm ID: Fast, Secure Signing for e-Prescribing of Controlled Substances" on Tuesday, February 17, 2015 at 2 p.m. EST. To learn more about Imprivata Confirm ID and the DEA requirements for EPCS, register for the webinar at:http://pages.imprivata.com/0215-Introducing-Imprivata-ConfirmID_LP-Register.html?ref=PR.