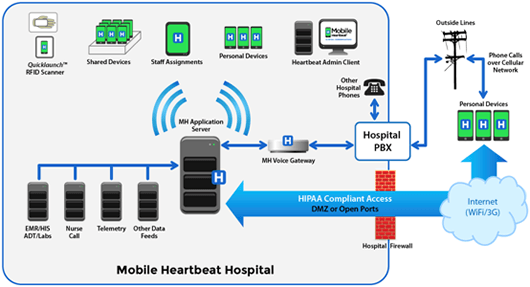 Mobile Heartbeat, a provider of smartphone clinical communications has inked an enterprise agreement with Yale New Haven Health System to rollout their Mobile Heartbeat CURE (Clinical Urgent Response) smartphone application to clinicians in all facilities in the provider's network, which include Yale-New Haven Hospital, Bridgeport Hospital, Greenwich Hospital and the YNHHS Saint Raphael campus. Mobile Heartbeat has recently completed pilot implementations which helped YNHHS to realize significant results leading to improved patient satisfaction.
Enterprise Agreement Details
The enterprise agreement entails implementing 4,000+ licenses of MH-CURE to clinicians and eventually equipping necessary staff at all YNHHS facilities with the smartphone application to enable smoother team communications and workflow. The company has also collaborating with YNHHS in developing new features for MH-CURE that will enable YNHHS to tie patient care team members closer to each other. 
"Mobile Heartbeat has dramatically improved the communication between clinicians by allowing us to securely exchange messages, phone calls, and even clinical photos. If I'm busy with a patient, I can read and respond to the secure 'text' when appropriate, and my colleague knows when I have seen their message," said Allen Hsiao, Chief Medical Information Officer and Associate Professor of Pediatrics and of Emergency Medicine at YNHHS. "Adoption has been driven by the flexibility of the platform, such as the ability to use your own Android or iPhone device, integration with our EMR, and new features added to the platform when we need it."
Mobile Heartbeat CURE Overview
Mobile Heartbeat CURE provides patient care teams with secure, single smartphone access to all clinical communications, pertinent patient information and lab data. Care team members have a choice of using their own smartphone (BYOD) or sharing hospital-supplied devices. With MH-CURE, care team members know who else is on the team for each patient and can view the availability and status of other team members at all times. MH-CURE enables efficient delivery of clinical data and communications to users on-site, off-site and at multiple locations to ensure timely patient care decisions and response, plus save time and reduce costs. 
Last fall, the company announced its integration plans with AirStrip ONE® to provide broader clinical context including EMR data and waveform data from cardiac and neonatal monitors in near real time. HCA, which has 164 hospitals and is one of the leading providers of healthcare services, is an investor in both AirStrip and Mobile Heartbeat through HCA's Health Insight Capital subsidiary.