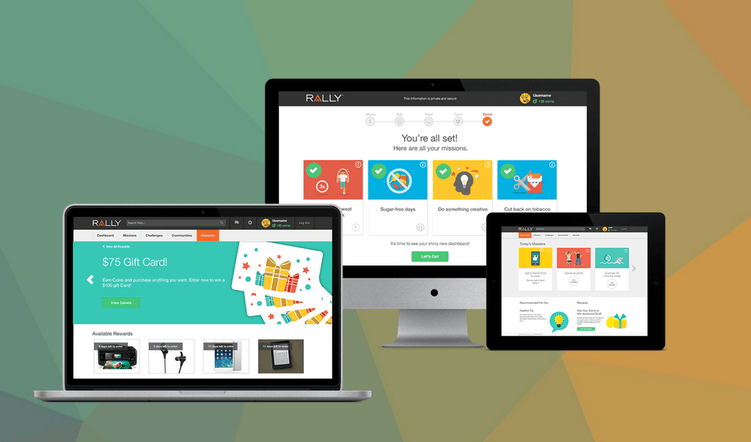 Rally Health, Inc., a leading developer of data-driven solutions for consumer health engagement, today announced the launch of its flagship product, RallySM. The HIPAA-compliant platform leverages the power of personal health data, social networking, and gamification to drive behavior change that is tied to value for the consumer. 
Available to consumers through health plans and employers, Rally is a multi-payer, multi-channel platform. The company is a primary provider of digital wellness solutions for UnitedHealth Group and is expanding its customer base through relationships with institutions like Health Alliance Medical Plans, with over 5 million people already on boarded to the platform.
Behavior Change Platform
Consumer Rally is a digital health platform that gives consumers the support and tools they need to better manage their health and well-being. The gateway to Rally is the Health Survey, which uses industry standards, research, and best practices to give consumers a measure of their overall health. Rally's clinical and user experience teams designed the survey to cover all areas of health and engage consumers in a fun and compelling way, resulting in a 90 percent completion rate.
How It Works
Based on the consumer's self-reported and digitally captured data, Rally provides multiple layers of engagement through:
– personalized recommendations for healthy activities
– rewards for taking small steps towards healthy goals
– coaching, tools that offer one-on-one support by phone and email, providing a human touch to Rally's personalized recommendations. 
– challenges that leverage the wearable tech trend, using tracking data to push people to do just a little more 
– content that promote healthy lifestyle behaviors.
As a result of Rally's intuitive interface and personalization capabilities, its engagement rate is 10 times the industry standard which leads to consumers sustaining healthy behaviors that are tied to real incentives – ranging from iPads to insurance premium reductions to dream vacations.
Grant Verstandig

"We believe the key to changing behavior lies in personalization. We are focused on delivering the right tools, the right experience, and the right information at the right time to our end users," says Grant Verstandig, Rally Health's founder and chief executive officer. "Our intuitive and easy-to-use interface offers an engaging user experience that will help manage risk, reduce health care costs, and reward users living a healthy lifestyle."
Rally Health's Aggressive Growth and Expanding Customer Base
Rally Health is led by seasoned health care experts, award-winning game and user experience designers, and software developers. It partners with the industry's leading employers and payers who recognize the need and demand for digital health solutions to improve the health and well-being of their employees and members.
"Wellness is only a starting point when it comes to the potential impact of digital health," said David Ko, president and chief operating officer of Rally Health, formerly of Yahoo! and Zynga. "Our vision for Rally Health is to create a digital suite of tools that actively engages consumers throughout their entire health care experience — whether it's chatting with a coach online at work or taking a mobile health assessment while sitting at the doctor's office. Rally meets the consumer where they are."
In 2015, Rally Health will continue to develop more solutions to create a unified health experience that addresses the entire health continuum. The company will also expand its partnerships and offerings both within the U.S. and internationally.