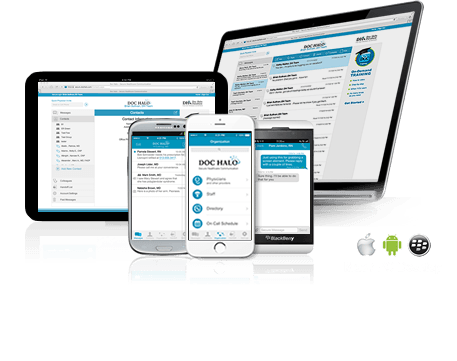 After extensively reviewing seven companies that offer secure messaging for the healthcare market, American Messaging Services recently named Doc Halo 'Best in Class'. The Doc Halo mobile app and online system provides a secure texting and HIPAA-compliant environment for the transmission of ePHI (electronic personal health information) over an encrypted platform. 
During their six-month comparison, American Messaging Services performed a comprehensive analysis of mobile health platforms and discovered several key elements that differentiate Doc Halo from the competition. Important differentiating features that Doc Halo offers include:
1. The most mature, feature-rich and reliable secure messaging platform,
2. The highest usability rating and a user-friendly interface,
3. A proven large healthcare system implementation process,
4. Responsive 24/7 high-level support with expert customer service representatives on call,
5. The only mobile health platform with Service Organization Control (SOC) 2 certification,
6. Fishnet, the largest information security solutions provider, penetration testing with scheduled security reviews,
7. The most configurable administrative console and highest administrative controls,
8. Quarterly releases of innovative clinical features requested by physicians,
9. Built in connectivity monitors with repeat alerts and backup escalation, and
10. The highest healthcare domain expertise with many physicians embedded in the development process.
"Each day, we focus on providing the most user-friendly, secure mobile health platform," Jose Barreau, MD, CEO of Doc Halo said. "We're constantly innovating and we strive to be the top resource for physicians and their staff, so it's an honor to be named 'Best in Class' by an organization that knows healthcare so well."
American Messaging Services is one of the largest critical messaging companies in the U.S., delivering more than five million critical messages per day. American Messaging provides service to approximately 850,000 customers, including more than 1,300 major healthcare organizations and first responder clients across the U.S.