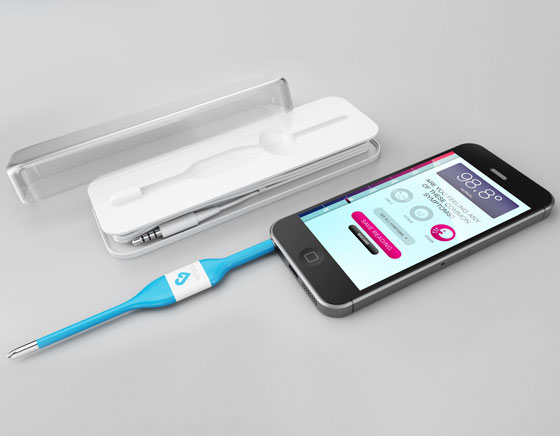 Kinsa, the company behind the world's first FDA-cleared smartphone-connected thermometer, has announced the integration of its app with Apple's HealthKit for iOS 8. The company recently raised a $9.6M Series A round and launched its national school health program, FLUency.
Through the free Kinsa app, users can create individual profiles for each member of the family and easily track fever, symptoms and illness history within the app itself.  Kinsa's integration with HealthKit further allows for individual users to track temperature as part of their broader personal health and fitness context.
"Apple has been a great partner for our Smart Thermometer and app, and I'm thrilled we can now offer iPhone users with even more value by connecting their Kinsa data to HealthKit," explained Inder Singh, Founder and CEO of Kinsa. "Growing popularity of the 'connected health' movement is leading consumers to be very active in managing their own health, and we're excited to be a part of this trend."
How It Works
Like traditional thermometers, the Kinsa Smart Thermometer can be used orally, under-the-arm or rectally. It's been designed with parents and children in mind and leverages the smartphone to make taking a temperature a more engaging and informative process. The thermometer connects to a smartphone or other mobile device via the headphone jack and uses the display, power and processing of the smartphone to determine a precise temperature reading in less than 10 seconds — with fewer components in the thermometer, it is compact, thin, and highly flexible, making it more comfortable to use.
Kinsa uses the smartphone's display screen to provide fun, animated visuals throughout a temperature reading — calming, distracting and engaging children throughout the process. The display also shows reading progress and alerts parents if the thermometer slips out of place. Users can create individual profiles for the whole family and, with a few taps, track their fever, symptom and illness history.
The Kinsa Smart Thermometer is available at Apple.com and Apple retail stores nationwide, at CVS, on Amazon.com and through the company's website.