Today the ONC has issued the Federal Health IT Strategic Plan 2015-2020, a coordinated and focused effort to appropriately collect, share, and use interoperable health information to improve health care, individual, community and public health, and advance research across the federal government and in collaboration with private industry.
The Strategic Plan, which is open for 60 day comment period serves as the broad federal strategy setting the context and framing the Nationwide Interoperability Roadmap that will be released in early 2015. This Nationwide Interoperability Roadmap will help to define the implementation of how the federal government and private sector will approach healthcare IT interoperability. 
Strategic Goals, Objectives, and Strategies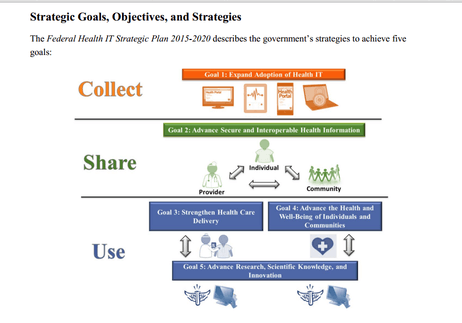 The Federal Health IT Strategic Plan 2015-2020 describes the government's strategies to achieve five
goals:
Goal 1: Expand Adoption of Health IT 
Goal 2: Advance Secure and Interoperable Health Information 
Goal 3: Strengthen Healthcare Delivery 
Goal 4: Advance the Health and Well-Being of Individuals and Communities 
Goal 5: Advance Research, Scientific Knowledge and Innovation
Objectives, outcomes, and strategies further define each goal. Outcomes are broken into 3-year and 6-year
time frames to achieve results. 
Karen DeSalvo, M.D

"With this updated Plan, the federal government signals that, while we will continue to work towards more widespread adoption of health IT, efforts will begin to include new sources of information and ways to disseminate knowledge quickly, securely, and efficiently. This Plan aims to remain flexible to our evolving definitions of health and health care. We recognize that both traditional and nontraditional sources will engender valuable health information. Expectations for our information systems and users of these systems will increase. During the information age, innovation and technological advancements have been difficult to predict.

This Plan accounts for how the federal government views our nation's current landscape and articulates our values and priorities in shaping tomorrow's landscape," said Karen DeSalvo, M.D., national coordinator for health IT and acting assistant secretary for health.  "The success of this plan is also dependent upon insights from public and private stakeholders and we encourage their comments."
The Federal Health IT Strategic Plan 2015-2020 can be found at federal-healthIT-strategic-plan-2014. The 60 day period to comment on the Strategic Plan ends Feb. 6, 2015.