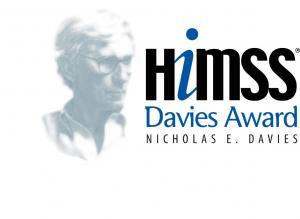 Fremont Family Care (FFC) of Fremont, Neb., has been named a 2014 HIMSS Ambulatory Davies Award recipient. Since 1994, the HIMSS Nicholas E. Davies Award of Excellence has recognized outstanding achievement of organizations that have used health information technology to substantially improve patient outcomes while achieving return on investment. The Davies Awards program promotes electronic health record-enabled improvement in patient outcomes through sharing of case studies and lessons learned across a wide range of efforts, including implementation strategies, workflow design, best practice development and adherence, and patient engagement that have improved ambulatory care outcomes for patients.
Fremont Family Care is part of Fremont Health Clinics, which is a wholly owned 501(c)3 subsidiary of Fremont Health. Fremont Family Care serves patients of all age groups with four, full-time family practice physicians, one physician assistant, and a nurse practitioner.
"One of the great challenges with implementing an EHR and the resulting disruptive changes in clinical workflow is creating a cultural change where providers understand the value to them and their patients in having access to best practice guidance and real time data," said Jonathan French, director of quality and patient safety at HIMSS. "Fremont Family Care leveraged the data generated by information technology to demonstrate to providers that adherence to EHR-enabled best practice protocols resulted in better care. Care outcomes data is not only shared practice-wide, but is also incentivized through a bonus system based on improved quality outcomes."
As French explained, the practice's use of technology coupled with the cultural change in care delivery, Fremont Family Care has achieved positive care outcomes that include:
– lowered hospital readmissions of their patients for pneumonia;
– increased providing the correct preventative care to at-risk patients; and
– significantly increased the number of their diabetic patients who keep their HgbA1c under control.
"The Davies Committee and HIMSS congratulate the dedicated providers and team members of Fremont Family Care on improving the health outcomes of their patient population through the effective use of health IT," said French.
"The providers and staff at Fremont Family Care have made significant process changes since implementing the electronic medical record in October of 2010. Through workflow changes, standing orders, and process improvement efforts we have been able to demonstrate significant measureable outcomes," stated Beth Belmont, APRN, director of primary care clinics at Fremont Family Care. "Fremont Family Care is excited to receive this prestigious award demonstrating outstanding achievement in utilization of health information technology to improve patient outcomes. We look forward to continuing to utilize our electronic medical record to continuously improve the quality of care we deliver to our patient population."
Fremont Family Care will be recognized at the 2015 Annual HIMSS Conference & Exhibition, April 12–16, 2015 in Chicago.  For more information on applying for the HIMSS Davies Awards of Excellence, visit the HIMSS Davies Award website.  The 2015 Davies submission cycle will be open from Jan. 1 – May 31, 2015.