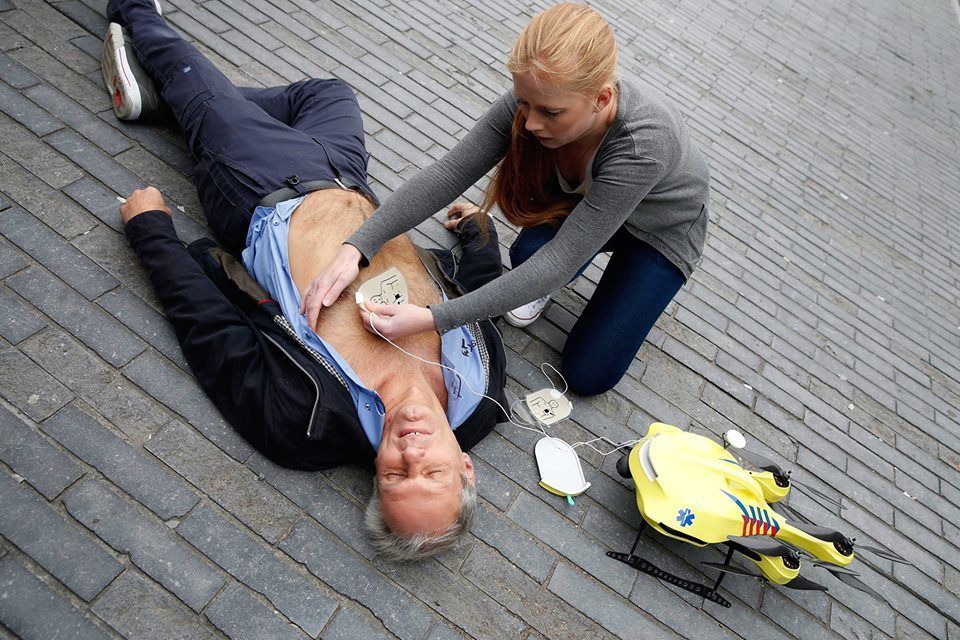 Alex Momont, a design engineer at the Technical University of Delft in the Netherlands has set out to change the negative perception of drones with the creation of the Ambulance Drone, a high speed emergency network of life saving drones. The prototype is an airborne defibrillator-delivery system that can reach any patient within a five-square-mile area in less than one minute.  The drone can fly at speeds up to 100 kms per hour and tracks emergency mobile calls using GPS to navigate.
Ambulance Drone: A Flying Medical Toolbox
In a medical emergency, the first minutes are vital to providing the right care to prevent escalation.In the European Union, around 800.000 people per year suffer from a cardiac arrest with only an 8% survival rate mostly due to the slow response time of emergency services (10 minutes). Brain death starts to occur in just 4 to 6 minutes leading to permanent death. 
By speeding up emergency response, healthcare providers can prevent potential deaths and accelerate patient treatment. An ambulance drone equipped with life saving technology such as an Automated External Defibrillator (AED), medication and Cardiopulmonary Resuscitation (CPR) aids could potentially revolutionize emergency medical response.
For example, if an ambulance took 10 minutes to reach a cardiac arrest patient, the chance of survival is only 8%. But the ambulance drone can get a defibrillator to a patient inside a five mile radius within a minute, increasing the chance of survival to 80%. The ambulance drone is equipped with two-way, video supported, communication channel between 112 operators and first responders will help improve first care. 
How it Works
Once the ambulance drone arrives on the scene, an operator, like a paramedic, can watch, talk and instruct those helping the victim by using an on-board camera connected to a control room as shown in the video below. 
FAA Regulations
Drones have started to taking off in Europe and Canada; however, don't expect to see ambulance drones flying in the U.S. anytime soon. According to GigaOM, the current FAA law has severe restrictions regarding drones including:
– Requiring drone operators to have the same commercial pilots' license as those required for airplanes
– Allowing only daytime flights within direct sight of the operator, and that remain under 400 feet
Entrepreneurs and businesses that have created solutions around drones have suggested a certification process that would require drone operators to demonstrate basic safety and navigation skills or a specialized air zone below 700 feet for drones
The Ambulance Drone is the result of Momont's Master Graduation thesis research project at TU Deft. Momont is currently working on a new version of the Ambulance Drone with reduced weight, more power and decreased drag to go over 125 mph. 
For more information on the project visit http://alecmomont.com/projects/dronesforgood and Facebook group for updates.