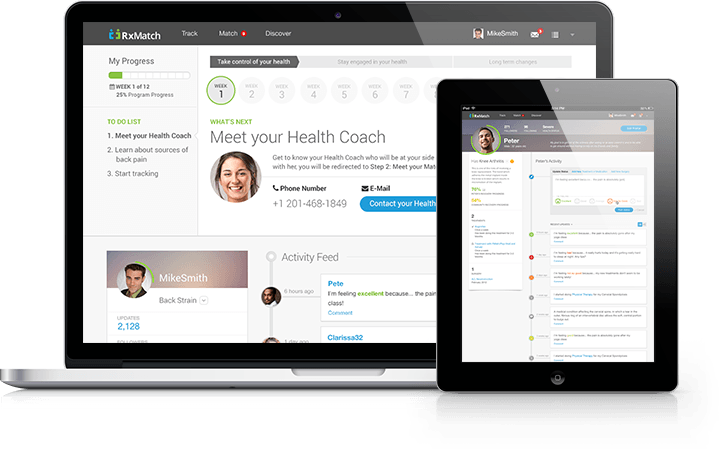 RxMatch, a digital health startup today announced the launch of a web- and mobile-based portal that automates and centralizes follow-up medical care and treatment compliance. It empowers healthcare professionals to deploy their best practices across institutions with ease and in a patient friendly interface. It also provides real-time data that gives healthcare practitioners up-to-date information, increases patient satisfaction, and decreases healthcare fees and readmissions. Doctors, nurses and care-givers can stay more informed about their patients' activities between visits and improve overall performance with proven clinical information.  
Platform Details
Building trust and spending quality time between patients and physicians is at the core of successful outcomes. RxMatch leverages technology to extend these pivotal relationships beyond the hospital room, keeping doctors and patients connected between visits with medical information that is insightful and actionable.
The platform includes a 12-week program that incorporates routine aspects of post-surgery care, treatment and condition maintenance, while tracking patient progress and monitoring clinical areas of concern. The data and analytics engine compiles patient-generated information in realtime so that patients can easily track their progress and understand critical behavioral changes and shifts in treatments. 
Startup Inception
The San Francisco-based startup was founded by Dr. Kian Raiszadeh, an orthopedic surgeon at Kaiser Permanentes San Diego Medical Center who noticed a huge bottle neck in over-treatments, unnecessary surgeries and ridiculous cost hikes. He quickly realized the need for a recovery and patient engagement platform that provides real-time data that increases patient satisfaction, and decreases healthcare fees and readmissions. 
"We're looking to disrupt the recovery and patient engagement system by making it more transparent and real-time – helping both healthcare practitioners and patients," said Kian Raiszadeh, former orthopaedic surgeon and founder of RxMatch.
Mobility
RxMatch integrates text notifications directly to patient's mobile or smartphones, enabling patients to receive and share medical activity and data with their health coaches and doctors right from their phones. The personalized patient health management program enables healthcare providers to engage patients on their mobile devices – through SMS, MMS, push notifications, native smartphones apps and the mobile web.
White Label Solution
RxMatch also powers white-label solutions for hospitals, self-insured companies, providers and other healthcare-related organizations. The special program offered is designed to give access to expert health coaches, a growing community of patients to share and learn from, and insightful data tools to track progress.
The Program
As part of RxMatch's offerings, there is a revolutionary new back pain program that gives clear, simple and straight-forward advice for individuals battling chronic back pain. The program connects individuals with a health coach to help navigate through various treatment options and clarify questions and confusion. The program gets individuals back on the path to managing their pain and staying healthy through:
– A 12-week health management and recovery program
– Resources to help understand diagnosis and treatment options
– A simple platform to invite primary caregivers to access your health data, provide support and help track progress
– One stop to collect health and medical data with a single login
– Ability to connect with other people experiencing chronic back pain
– Trackable progress via mobile and desktop
The company currently has a total of 25 providers on the platform including Kaiser Permanente, Alvarado Hospitals, SpineZone and HealthyRoads. 
For more information about RxMatch, visit www.RxMatch.com.