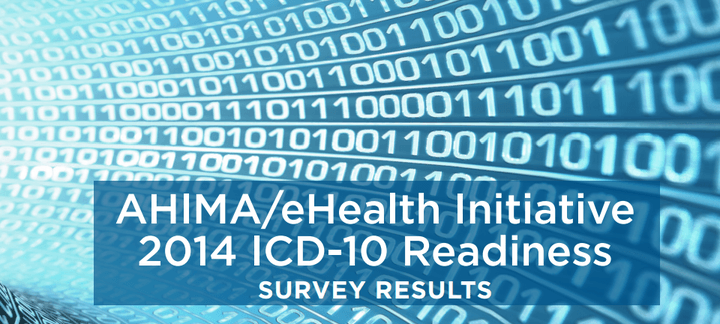 Nearly half of healthcare providers are unsure of the ICD-10 revenue impact or have yet conducted revenue impact assessments, according to a new eHealth Initiative (eHI)/AHIMA survey. In fact, 35 percent
believed that their organization's revenue will decrease during the first year of ICD-10 compliance.
The report provides a look at just how prepared healthcare organizations are for the upcoming ICD-10 implementation and how they think ICD-10 will impact their operations. Survey respondents expressed a mix of optimism and concern regarding the impact of ICD-10 indicating that coding (59%), documenting patient encounters (42%) and adjusting reimbursement claims (41%) would be the most difficult under ICD-10. 
ICD-10 End to End Testing
ICD-10 End-to-end testing is an important step in assessing ICD-10 readiness in which all external parties/business partners systems are testing to closely mirror real-world scenarios. The survey found: 
– 65 percent of respondents indicated that they could begin end-to-end testing prior to the fourth quarter of 2015, when compliance is set to begin. 
– 63 percent will be ready to conduct testing in 2014, while the rest will wait until 2015. 
– 10 percent of all respondents currently have no plans to conduct end-to-end testing, and 17 percent don't know when their organization will be ready for testing. 
– 36 percent of healthcare organizations with no plans to conduct end-to-end testing often cited a lack of knowledge as the reason to forego testing.
– 45 percent of these organizations are clinics/physician practices, possibly indicating a knowledge gap around ICD-10 implementation and testing for those organizations with fewer resources.
Challenges
Respondents cited a number of key challenges including: 
– Claims processing (58%)
– Clinical Workflow and Productivity (56%)
– Lack of Staff (49%)
– Change Management (48%)
– Vendor/Partner Readiness (47%)
Recommendations
The key findings demonstrate that many of the survey respondents are unaware of their state of ICD-10 readiness, indicating a lack of communication and collaboration about the transition. Organizations should consider the following recommendations: 
1. Test early and frequently
Testing should occur during all stages of implementation, not only in an end-to-end environment. Stakeholders should test systems as they work with their vendors to make upgrades and communicate with all of the individuals involved in the claims pathway to ensure that the system functions properly for all roles involved. Furthermore, testing should not focus only on the technical systems, but also the workflows, processes, and supporting elements necessary to use the systems properly. 
2. Collaborate
Stakeholders should reach out to peers and other organizations in their region to share best practices. Regional collaboration may also help improve testing capabilities. Some
clearinghouses have worked with multiple clients at the same time to send batches of test claims and streamline the testing process.
3. Mitigate risk prior to implementation
Strategies such as dual coding can help organizations mitigate the risk of the impact of ICD-10 by familiarizing staff with the new code set in advance of implementation, thus improving coding accuracy and productivity. Documentation improvement can similarly help prepare staff for the increased specificity of ICD-10 and highlight areas where
documentation will need to change. Because the impact of ICD-10 will not be uniform across an organization, operational and/or financial impact assessments can reveal potential variation across service lines and enable the organization to more appropriately target resources prior to implementation.
Survey Demographics
 – 73 percent of survey respondents were primarily from healthcare delivery organizations
– Among these, acute care hospitals (30%) and clinics/physician practices (25%) were most common.
– While physician practices tended to be smaller, 58 percent had only one to four physicians; hospitals varied in size. 
– The roles of respondents at their organizations ranged from managers (32%) to directors (24%) to executives (16%). Ten percent were clinicians.