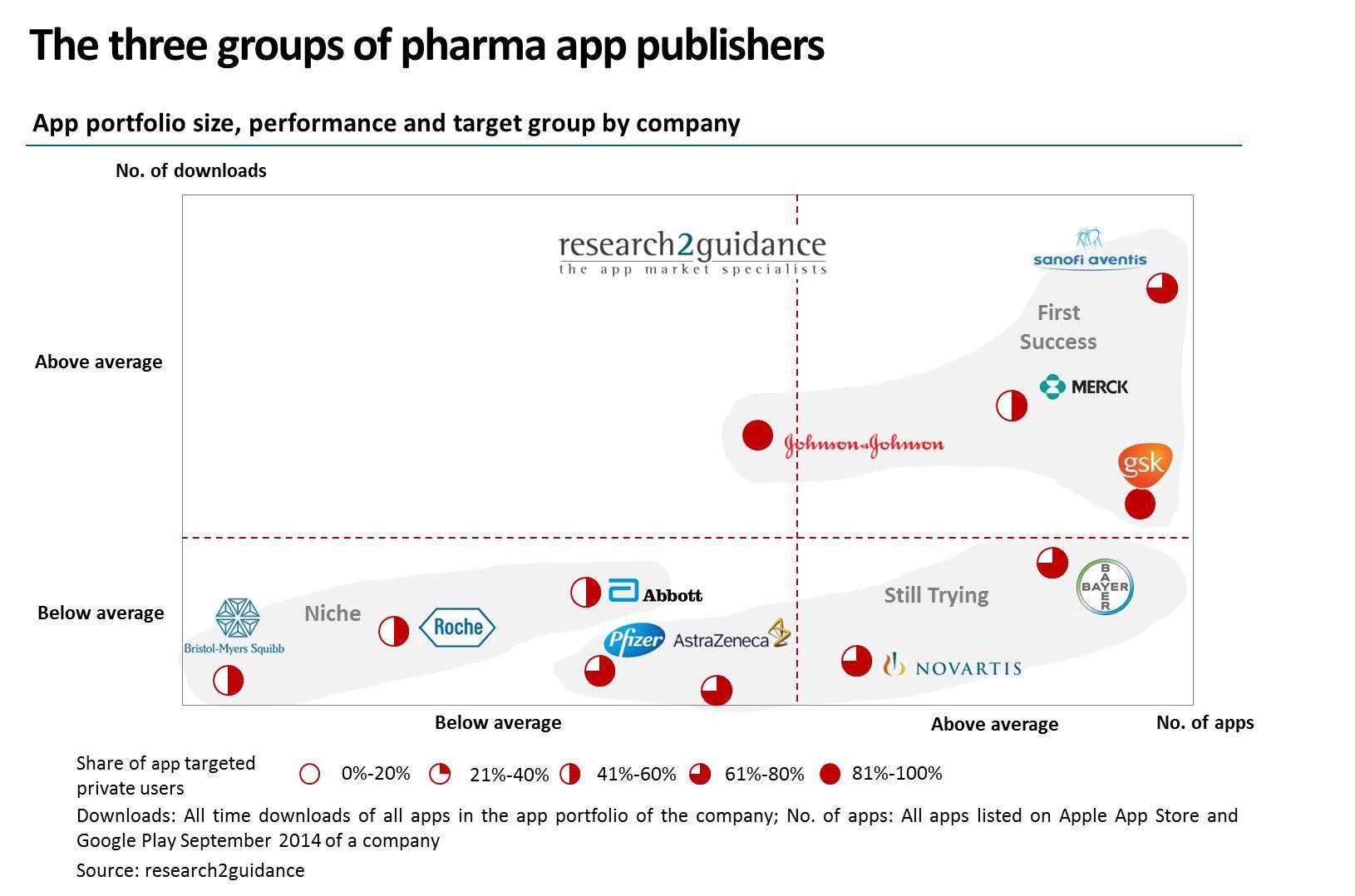 Pharma mHealth companies are struggling to have an impact on the mHealth app market generating only limited downloads and usage, despite releasing more than 100 pharma mHealth apps for iOS and Android. According to Research2Guidance's new report "Pharma App Market Benchmarking 2014", the leading Pharma companies have been able to generate 6.6m downloads since 2008 and have less than 1m active users. Given the dominance and reach of the pharma industry, the numbers are extremely disappointing. 
Analysis and comparison of the app activities of the top 12 pharma mHealth app companies reveals the following three reasons why pharma mHealth apps have failed to penetrate the market:
1. The pharma mHealth apps are not globally available.
Almost half of the Pharma companies' app publishing entities target only local markets. This means that their apps are available only in 3 or less countries.
2. The pharma mHealth apps is built around the core products of the Pharma companies and not around the actual market demand. 
For example, if a company specializes in the treatment of hematological diseases, the app portfolio reflects that. Apps in this case would provide references to the latest research, support diagnosis and facilitate information exchange with/between the experts. There exists an app market for such products, but there are other segments e.g. health tracking, weight loss, fitness or diabetes condition management, which attract more users.
3. No cross-referencing or common and recognizable design.
So far Pharma companies have not used the full potential of cross-referencing between their apps. They also do not use common style guides for their pharma mHealth apps. Both of these could improve their app visibility as well as strengthen their corporate identity in the pharma mHealth app market.
3 Key Groups of Pharma mHealth App Companies
The report also grouped pharma mHealth apps publishers into the following three groups: 
– Niche: Niche players, for example Roche or Bristol-Myers Squibb, use apps in order to promote their core products. They have a relatively higher share of apps which target healthcare professionals. Their portfolio size and reach is below the average. Focus on apps which target specialized groups of professionals might be an explanation for the lower reach as the potential market size is much smaller than the private app user groups. With their apps which focus on private users, they target women, health tracking or diabetics, all of which represent very large potential user groups.
– First Success: This group represents Pharma companies with a large app portfolio that has generated above average download numbers. The majority of their apps target the mass market of private users. Their portfolio includes one or two apps with a reach of hundreds thousands or, in one case, more than a million downloads. For example, 86% of Sanofi's reach is thanks to its top 3 (out of its  100 plus) apps.
– Still Trying: This group includes companies like Bayer Healthcare or Novartis. These companies are very active in terms of the number of published apps which predominantly target large private user segments. Despite this mass market focus of their app portfolio, their user reach is low and below average.  In contrast to the "First Success", "Still trying" players have not succeeded in releasing any particularly successful app. For this reason, the share of the top 3 apps in their app portfolio is much lower as compared to those publishers who have already had some success stories.
To learn more, visit "Pharma App Market Benchmarking 2014" report.