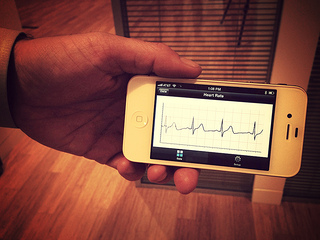 The mHealth apps market is ripe for transformation with powerful new entrants such as Apple, Google, and Samsung joining the space, according to a new study by ABI Research. The two year study of Android and iOS mhealth apps reveals very little continuity in the popularity of mHealth apps.
Overall, app popularity is split between the range of vendors and their functionality. As the mHealth market matures, mHealth apps will increasingly be expected to share healthcare data with a range of connected health devices and platforms such as Apple's HealthKit, Google Fit, Epic MyChart, etc. 
"In both categories there has been a good deal of variation between the most popular apps—from quarter-to-quarter and between iOS and Android," says Jonathan Collins, Principal Analyst. "There is, however, some broad consensus around the types of applications that are popular and an increasing drive to integrate data collected from wearable wireless devices into an ecosystem of multiple players."
Key Findings
– Primarily, mHealth apps are tracking activity, or helping to manage an individual's general health. However, within the medical category in particular, there is increasing interest in applications that provide both medical information and connections to medical services. Epocrates and MyChart, both offered by leading electronic health record companies, have emerged as popular applications, and unusually, across both platforms.
– Apple, Google, and Samsung have all recently set out their separate mHealth platforms to bring app collected data into the world of healthcare services. Those platforms will bring far greater scale to mHealth app data collection which in turn will drive far wider data integration into a range of applications, including healthcare services.
– Existing app and wearable device players are faced with keeping users data within their control or allowing data exchange with these emerging platforms, some of which come from device player rivals.
"Device and application vendors will increasingly need to leverage their experience and customer base in the transition to a new world of integration. The seeds and the foundations for that change and the direction they should take can be seen in the development of the mHealth apps market over the past 2 years," adds Collins.
For more information about this report, visit https://www.abiresearch.com/market-research/product/1019874-mhealth-applications-developments-trends-a/