Three policy leaders will receive one of the HIMSS Health Information Technology Leadership Awards during the 9th National Health IT Week in Washington, D.C. The awards ceremony will be held at the National Health IT Week Awards and Partners Reception on Sept. 17. In addition, the recipient of the College of Healthcare Information Management (CHIME) Executives Federal Public Policy Award for CIO Leadership will also be recognized during this event. 
"Each year during National Health IT Week, HIMSS honors public policy leaders whose dedication and commitment to improving health through IT has made a positive difference in the transformation of healthcare. We recognize these three individuals because their individual achievements at the congressional, federal and state levels support our unified cause to advance effective, quality, cost-effective and accessible patient care with IT," says Carla Smith, MA, CNM, FHIMSS, Executive Vice President, HIMSS North America.  
This year's award recipients include: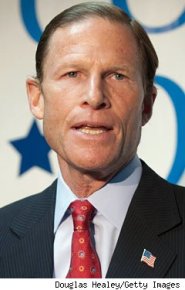 HIMSS Congressional Health IT Leadership Award recipient, Senator Richard Blumenthal (D-CT)
Sworn in on January 5, 2011, Richard Blumenthal is serving his first term as a United States Senator from the State of Connecticut.  He now serves on the following committees:
• Committee on the Judiciary 
• Committee on Armed Services 
• Committee on Commerce, Science, and Transportation
• Committee on Veterans' Affairs
• Special Committee on Aging
Serving an unprecedented five terms as Connecticut's Attorney General, Senator Blumenthal included privacy and security issues among his areas of focus. He advocated for reforms in the health insurance industry to assure critical health care coverage and lower pharmaceutical drug prices. In addition, he worked relentlessly to eradicate corruption in state government and make state contracting accountable, fair, honest, and transparent.
A strong supporter of health IT, he is now the lead honorary Co-Chair of the Capitol Hill Steering Committee on Telehealth and Healthcare Informatics, which works with the HIMSS Foundation's Institute for e-Health Policy on convening monthly events on Capitol Hill. Senator Blumenthal has supported, and been a frequent speaker at, these educational sessions. 
He has been active on healthcare privacy and security issues, and is interested in the legal issues around health IT.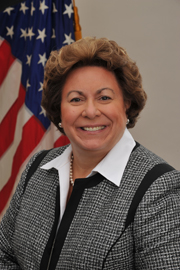 HIMSS Federal Health IT Leadership Award recipient: Judy Murphy, RN, FACMI, FHIMSS, FAAN, Chief Nursing Officer and Director, Office of Clinical Quality and Safety, Office of the National Coordinator for Health IT, Department of Health and Human Services, Washington D.C.
Judy Murphy is Chief Nursing Officer and Director of the Office of Clinical Quality and Safety at the Office of the National Coordinator for Health IT, Department of Health and Human Services in Washington D.C.  In this role, she advances the vision of using health IT to improve health care, lower costs, and promote consumers' greater understanding and use of health IT for their own health.  Prior to this, she was Vice President-Electronic Health Record Applications at Aurora Health Care in Wisconsin, where she led their EHR program and was involved with health informatics for over 25 years.
She has a long-standing reputation of patient advocacy; maintaining a "patient-centric" point of view, and approaches her work with unyielding energy as well as dedication, passion, and commitment to the healthcare transformation enabled by technology.  She has published and lectured nationally and internationally on these topics.  In addition, she has served on the HIMSS and AMIA Boards of Directors.  She is a Fellow in the American Academy of Nursing, the American College of Medical Informatics and HIMSS.  She received the 2006 HIMSS Nursing Informatics Leadership Award, was named one of the "20 People Who Make Healthcare Better" in 2007 by Health Leaders magazine, and was selected as one of 33 Nursing Informatics' Pioneers to participate in the Nursing Informatics History Project sponsored by AMIA, NLM, AAN, and RWJF.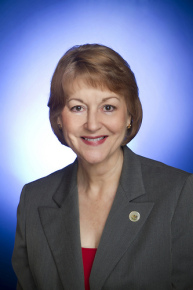 HIMSS State Legislator of the Year Award recipient: State Senator Rosalyn Baker, Senate District 6, South and West Maui
Senator Roz Baker has represented the people of Maui County in the Hawai'i State Legislature for over 21 years serving in a variety of leadership positions. She is Chair of the Senate Commerce and Consumer Protection Committee and has been a long-time advocate for issues that affect the quality of life for the average person, such as access to healthcare and community issues, such as care for elders.  
Senator Baker has been pivotal in developing health policy for the state, serving for four years as Senate Health Chair from 2002-2006 and currently serving as vice-chair of the Senate health committee. She has served on several national committees addressing access to care issues including the Subcommittee on Pediatric Emergency Care of the Institute for Medicine's Committee on the Future of Emergency Care in the US Health System that issued its report in 2006. 
Supportive of health IT over the years, she was instrumental in developing the Hawaii Health Insurance Exchange and most recently sponsored Senate Concurrent Resolution 36 which recognizes the Hawaii Health Information Exchange as the State-Designated Health Information Exchange. Senator Baker has been closely engaged with HIMSS on both the national and local level by attending HIMSS Hawaii-Alaska chapter events, meeting with HIMSS members in both the capitol and her district, along with attending HIMSS' Annual Conference. 
The Senator paired with HIMSS members to acknowledge Hawaii Pacific Health, a 2012 Davies award winner through a 2013 State resolution and has supported Hawaii health IT legislation through her role with 2013 Senate Bill 659, which appropriates funds to support the continued operations of the Hawaii health connector and various other measures.