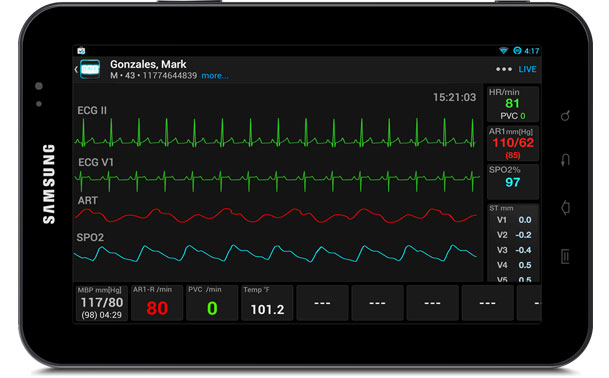 Scripps Health has launched a 60 day pilot study of AirStrip ONE®, a software system that securely delivers data from multiple hospital-based patient monitoring systems to mobile devices used by physicians both within and outside the hospital. The AirpStrip ONE will be used in Scripps Memorial Hospital La Jolla's first-floor critical care unit on post-open heart surgery patients, trauma patients, surgical intensive care patients and others who are critically ill and require close monitoring. Nurse practitioners and physician assistants who work with these patients are also using the mobile data delivery system.
"This system gives doctors near real-time access to a wide range of patient vital signs from wherever they happen to be," said Scripps Chief Medical Officer James LaBelle, M.D. "AirStrip ONE has the potential to enhance patient outcomes by speeding the delivery of care."
AirStrip ONE is vendor-and platform-neutral and data source-agnostic that combines clinical information from disparate data sources into a single, intuitive user experience that delivers: 
Live patient data, including waveforms and vitals, in near real-time
Contextual data, including EMR and patient information from multiple sources
Secure communication, expediting care coordination among clinicians 
The 60-day pilot is expected to end in early October and will consider broadening the use of the AirStrip ONE system more widely based on its performance. 
"By working with AirStrip to provide best-in-class interoperable mobility technology for its clinicians, Scripps Health is reaffirming its position at the forefront of healthcare innovation," said AirStrip CEO Alan Portela. "The pilot project focuses on critical care patients that require the most advanced care available. We look forward to working with Scripps to drive physician utilization in ways that can help facilitate workflow improvements and ultimately drive clinical transformation."
The study is an extension of Scripps' role as a leader in digital medicine, which includes the use of wireless health technology and genetic testing in the diagnosis and treatment of patients. Other pilot studies and clinical trials have evaluated wireless sensors that track blood pressure, blood sugar, brain activity, electrical heart rate and other key vital signs. Genetic studies have examined the DNA coding that drives heart disease, cancer, diabetes, healthy aging and mystery illnesses that elude conventional diagnosis.
Through the affiliated Scripps Translational Science Institute, which is a collaboration with The Scripps Research Institute, work is under way on more than a dozen digital health studies, which are supported by a $29 million Clinical and Translational Science Award from the National Institutes of Health.