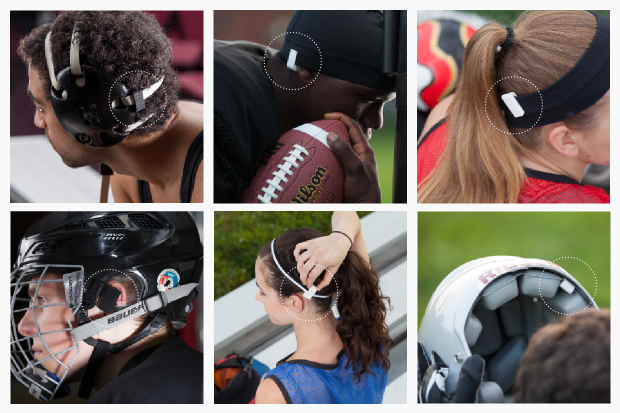 Jolt launches Kickstarter campaign for a new wearable sensor to help ID concussions in real-time for youth athletes.  
It's estimated that up to 300,000 high schoolers in the U.S. suffer sports-related concussion annually. Although helmeted sports like football and hockey receive the most attention in this space, a number of others have high rates of concussion, most notably girls soccer. Girls soccer players suffer almost 40 percent more concussions than their male counterparts and at a rate higher than almost any other sport. All sports carry some risk of concussion, many much higher than people expect. As a result, many concussion go unnoticed and undiagnosed, with injured athletes continuing to play, because parents, coaches, and athletes are not aware of the risk or watching for symptoms.
In students from the age group 8 to 19 who played sports such as soccer, basketball or football, concussion rates doubled between the years 1997 to 2007 although participation in the sports declined. Two important aspects are clear from these figures – one, the likelihood of a serious injury like concussion occurring during sports is very high, two, the risk to health is heightened when the injured player does not receive immediate and adequate care.
To solve this pain point, today the Jolt is announcing the launch of their first product, the Jolt Sensor, a wearable sensor that can track impacts to the head in real time on KickStarter in an effort to raise $60,000 in funding. 
How Does Jolt Sensor Work?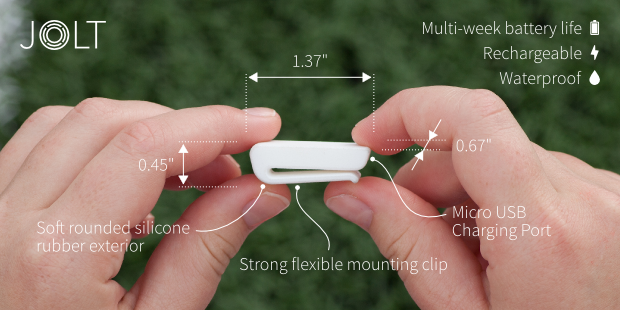 The compact and highly resilient Jolt Sensor is a tiny clip that attaches easily to any piece of athletic head gear. When an athlete, accelerates in a dangerous way, it alerts the athlete in vibration mode. The sensor comes with in-built wireless connectivity options so that the alert about dangerous impact can be quickly passed on, in real-time, to smartphones and tablets. Coaches, parents or teachers can have the alerts posted to their handheld devices so that they can take immediate and effective action.
The sensor has a range of over a hundred yards so that injuries occurring anywhere on the field can be sensed and recorded instantly. The sensor enclosure has a soft rounded silicone rubber exterior to prevent injury and is fully waterproofed to stand up to dirt, dust, sweat, and rain. It has a multi-week battery life and is rechargeable via a standard micro USB port. 
The app also comes with a built- in cognitive test that compares the injured sportsman's test results with baseline scores to determine how seriously he has been injured. Since all the data gathered is stored on the cloud, the injured sportsperson's physician, medical experts, or family members can easily access it from anywhere, at any time.
Since the device is an indicator and not a diagnostic tool, the Jolt Sensor will not need FDA clearance. According to Co-Founder Seth Berg, "The only way to diagnose a concussion is to be evaluated by a doctor. However, just as a high temperature is a good warning sign of a cold or virus, a large acceleration experienced by the head in conjunction with decreased cognitive abilities are important warning signs that a child should be removed from activity until they can be evaluated by a medical professional. "
The Story behind the Jolt Sensor
Jolt initially began a lab project at MIT after founder Ben Harvantine suffered a concussion during wrestling practice. Having a concussion is bad enough, but for Ben the problem was only exacerbated by the fact that it was not detected immediately. As a result of this delayed response, Ben suffered from post concussion syndrome for months afterwards during which time he had severe memory loss, constant fatigue, and frequent headaches.
Founders Ben and Seth met at MIT, when Ben hosted Seth during his Campus Preview Weekend. Ben studied Mechanical Engineering and Architecture. Following graduation, he completed the Global Management Trainee program at Anheuser-Busch InBev before focusing on Jolt full-time. Seth studied Electrical Engineering and Computer Science, completing significant coursework in Mechanical Engineering as well. To date, the startup is a MassChallenge 2014 finalist and Arch Grants 2014 winner including working closely with MIT's Venture Mentoring Service over the past year. 
Jolt Sensor's KickStarter Campaign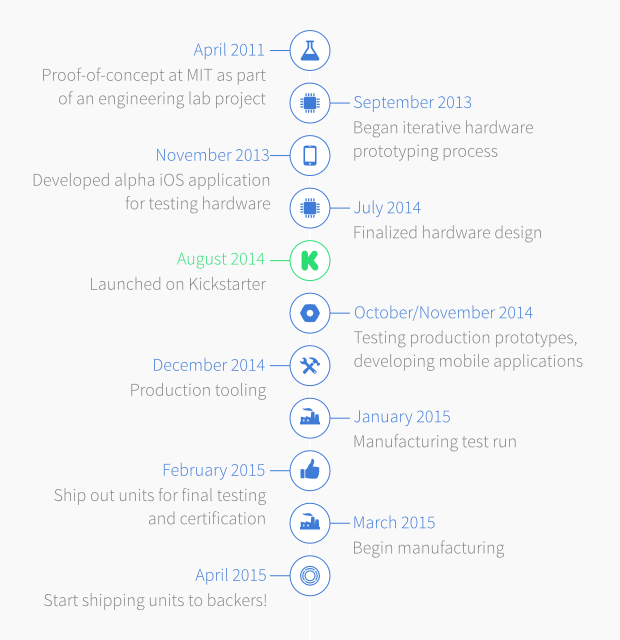 The JoltSensor Kickstarter campaign is being launched with the core objective of raising funds to set up manufacturing for the circuit board and electronics that power the device and to setup tooling for the device enclosure. At present, the sensor has progressed through five generations of prototypes and several fully functional sensors have undergone full testing.
With a successful campaign, Jolt will be adding functionality, improving ease of use, and creating an Android version of the app. Additional features may be in the offering as Founder Ben Harvatine and Co-Founder Seth Berg continue to explore ways and means to make the Jolt Sensor even more effective. They have made an official announcement that financial backers will also receive a funding option to make a donation to children who are at high risk of such injuries. This will be in addition to the stake in Jolt Sensor that they will acquire with their funding. 
Jolt will be delivering the first batch of sensors to our earliest backers in April 2015. The campaign also has a "give a sensor" reward tier. For backers that don't need a sensor for themselves or a loved one, they can contribute at $75 and Jolt will manufacture a sensor and give it to a kid that needs it. In doing this Jolt hopes to get sensors to their Kickstarter backers as well as to players and teams that need them.
Potential of Jolt Sensor 
The story of Taylor Twellman, New England Revs soccer star, whose repeated concussions sustained on field brought a premature end to his career is a tragic example of how ignoring these injuries can have devastating consequences. In Twellman's case, the seven concussions he suffered while playing the game he loved proved to be his undoing. The former player did not mince words when he described the FIFA's lax attitude toward head injuries as 'barbaric'.
This is exactly the kind of heartbreaking consequence that Jolt Sensor can avert. The sensor can instantly alert the player and others who are in a position to make a decision on his behalf when a dangerous impact has occurred. This facilitates emergency action so that the repercussions of the injury can be mitigated. Timely medical attention heightens the chances of the player making a full recovery without lasting effects that could compromise their quality of life.  
To suppor their Kickstarter campaign, click here