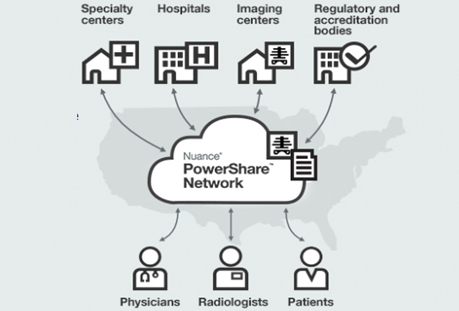 Nuance's PowerShare Network enables provider organizations to instantly view, share and store medical images and associated reports for patient care.
Nuance is announcing its achievement reaching an industry-first milestone in sharing 3 billion medical images through the Nuance PowerShareTM Network, the industry's largest cloud-based medical imaging network that enables providers and patients to coordinate care and share information across disparate health systems, as simply as people exchange information using social networks (while still being secure.)
Previously, there was not a solution that allowed providers to easily share images and reports with nonaffiliated organizations. This caused inconsistent and delayed patient care, and added costs for unnecessary reimaging. The Nuance PowerShare Network is helping hospitals and teams effectively share information and communicate with each other throughout patients' continuum of care. According to a recent HIMSS survey, 70 percent of clinicians use mobile devices to view patient information, demonstrating the importance of this groundbreaking solution to physicians, patients and the future healthcare system.
The PowerShare Network is being used by 2,000 provider organizations for sharing images via the cloud, including Children's of Alabama, Intermountain Healthcare, Kaiser Permanente of Georgia and Orlando Regional Medical Center. By expanding Nuance's portfolio with PowerShare, the 1,600+ healthcare organizations that currently use the Nuance PowerScribe solution can immediately leverage their existing investment and begin sharing radiology reports along with images. Additionally, IT staff appreciate the easy-to-implement and maintain Software-as-a-Service (SaaS) model that connects PowerShare into their organization's existing infrastructure without the need for custom interfaces, VPNs or cumbersome requirements. 
To learn more about the PowerShare Network, and Nuance's imaging and report sharing solutions, visit www.nuance.com/products/PowerShareNetwork.
\