To successfully attest for Meaningful Use Stage 2, providers must have a patient portal that is used by at least 5 percent of patients in order to receive financial incentives. Reports have shown that providers have struggled with patient portal adoption which caused CMS to lower the objective to 5 percent from the initial 10 percent. While educating patients about patient portals is clearly the first step, maintaining their involvement depends heavily on understanding both the features they find beneficial and the frustrations that can drive them away.
To find out more, Software Advice conducted a three-day online survey of four questions, and gathered 1,540 responses from random patients within the United States. The survey questions were worded to ensure that each respondent fully understood their meaning and topic. The key findings uncovers what motivates patients to engage and disengage with a patient portal.
Most Requested Patient Portal Features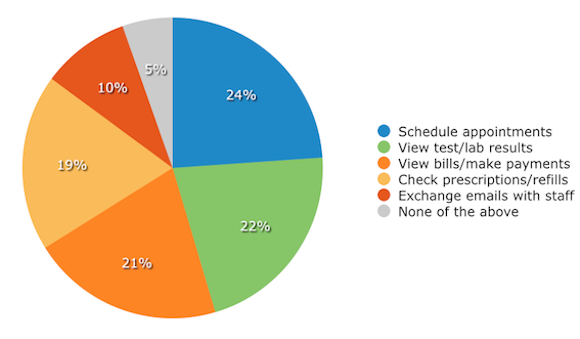 Online appointment scheduling is the most requested patient portal feature for patients at 24 percent that would provide a streamlined experience while eliminating hassles of making appointments over the phone. Viewing test/lab results was the second most desired patient portal feature, with 22 percent of respondents expressing a preference for this. Kaiser Permanente is one example of the benefit this feature can have: when it added a feature to its portal allowing patients to view test results, registration jumped from 9 to 27 percent. Other most requested patient portal features include: 
– Another 21 percent of patients in our sample wanted a portal that would allow them to view and pay bills online. This data aligns with a recent study by Intuit, which found that 77 percent of patients would be willing to pay medical bills online if the option was made available to them. 
– Checking prescriptions and requesting refills was favored by 19 percent of patients; a finding that has positive implications for patient outcomes. One study, for example, found that diabetic patients who used an online portal to request refills were more likely to take their medication.
– Only 10 percent of patients expressed interest in exchanging emails with staff.  This may be a result of frustration stemming from prior attempts at communication; e.g. patients may have sent messages to staff via a portal in the past that went ignored.
Most Frustrating Patient Portal Features

Unresponsive staff (34 percent) and confusing portal interfaces (33 percent) topped the list of what patients find most irksome about patient portals. One reason for slow staff response times may be the relative novelty of patient portals. Automatic emails, often viewed as annoying and impersonal, were also disliked by patients, with 22 percent citing this as the most frustrating feature. Finally, while the use of medical jargon in patient notes is often cited as a point of confusion, only 11 percent of patients surveyed said it would frustrate them most when using a portal. 
Recommendations for Providers
To ensure providers choose the right patient portal, the report suggests:
– Ensure features align with practice demographics
– Take it for a test drive
– Consider future patient preferences
Keeping an eye on what features patients increasingly desire will help ensure they continue to engage with your patient portal—both now and in the future.
For more information, access the full report here: http://www.softwareadvice.com/medical/industryview/patient-portals-2014/