66 percent of healthcare leaders agree that the ED is a critical area tool to track and measure the patient experience, according to a new independent HealthLeaders Media Premium report. The report includes data from a survey of the 7,000-member HealthLeaders Media Council exploring how leading organizations are applying rigor to patient experience reporting and refocusing efforts on patient values.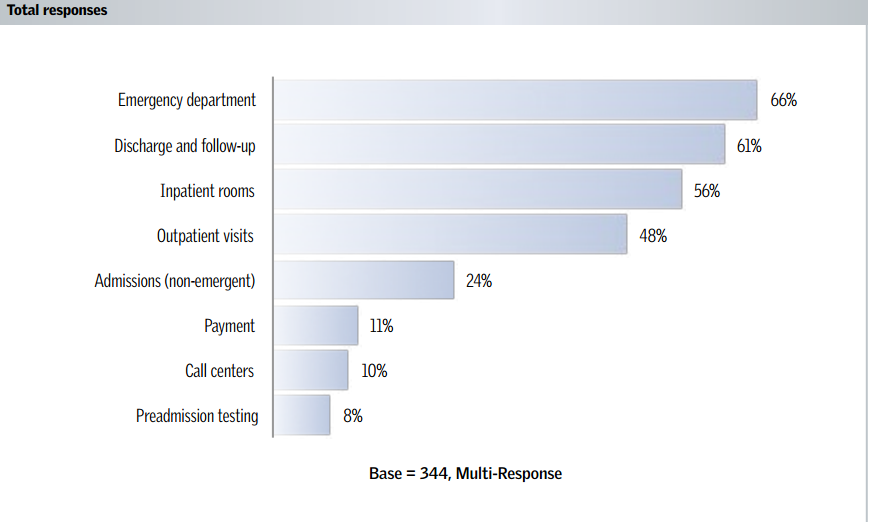 The other top areas identified as the most important to positive patient experience score includes: 
– Discharge and follow up (61%)
– Inpatient rooms (56%)
– Outpatient visits (48%)
– Admissions (non-emergent) (24%) 
The HCAHPS survey was identified as the top method to track and measure the patient experience, but ED-CAHPS is becoming an increasingly popular measuring tool, indicating the continuing importance of the emergency department as the front door to the hospital and the first impression of the patient experience.
Key Findings
– Healthcare leaders expect that technology can contribute to patient engagement. The top two future patient experience infrastructure improvements are connecting patients with hospital medical records (60%) and on-line access to appointments and prescriptions (58%).
– 32% of respondents say that difficulty changing culture is their biggest patient experience stumbling block.
– 82% agree completely that they must adopt a culture guided by patient needs for progress in patient experience.
– Two-thirds (65%) agree completely that a commitment to patient experience will result in better quality, safety, clinical outcomes, and value to the patient.
– Despite the importance of delivering what the patient values, only one-third (30%) of respondents are focused on instituting systems to learn patient needs.
– Nearly half (48%) say outpatient visits are a top-three area for patient experience score improvement.
– A majority (57%) now use post-discharge phone calls (up from 48% in 2013) to gauge patient experience and health status.
The report, available for purchase at http://hcmarketplace.com/patient-experience-transformation-premium