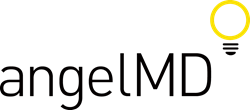 Today angelMD, an investment marketplace connecting physicians with innovative medical startups seeking capital investments, advisors, and users has announced open enrollment for physicians. Physicians wanting to become members of angelMD will now be able to bypass the waitlist that has been in place since launch. 
How It Works
Physicians can register on angelMD at no cost and browse companies in their areas of expertise and interest. Select companies will be presented for investment each month. Physicians can invest directly in deals or through forthcoming funds or through both. Startups are matched to member's areas of expertise and interest enabling them to make educated investment decisions. They can also contribute to successful outcomes by offering advice, strategic introductions and more. Through the angelMD crowdfunding portal and companion iPhone app, medical startups from all over the world can register and build a profile for their company, giving them instant exposure to a nationwide network of physicians. Startups approved to be funded on angelMD can raise their seed capital in less than 60 days in most cases…with minimal travel.
Additionally, they will discover a more user-centered site with an updated look and feel. The upgrade and opening of membership comes after the angelMD team has made substantive improvements based on work with investors and startups since the site went live 12 months ago. 
Members can expect more seamless registration and log in procedures including integration with Doximity and LinkedIn for registration. Beyond registration, physician members will find enhanced tools that facilitate navigation of the rapidly growing directory of medical startups from around the world.
The angelMD community growth continues to accelerate with over 250 startups registered from all over the world covering a diversity of medical device, biotech and software (mhealth, digital health and health IT). Incubators, universities and physician members are primarily responsible for the accelerating referral volume.
The site update also adds a key featured home page rotation for top startups within the network. Companies earning this position will receive a custom tile showcasing their story and receive significant promotional effort during their position in the rotation. The initial companies selected are Niveus Medical, Sensulin and QxMD….each developing compelling offerings in their respective fields.