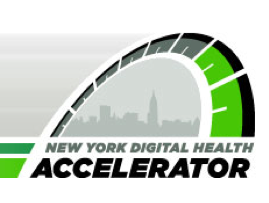 The New York Digital Health Accelerator (NYDHA) has announced their 2014 class of seven early and growth stage digital health companies selected through a competitive process of over one hundred applicants by the executives and 23 healthcare systems. 
During the four-month program, participating start-ups will:
– receive direct mentorship by twenty-three leading healthcare organizations, including insurance companies, medical centers and hospital groups
– fine-tune and develop their technologies and business strategies through a series of workshops, panel discussions, user-group sessions, networking opportunities, one-on-one meetings and presentations
– receive on average $100,000 in capital investment provided by Baxter Ventures, Deerfield Management Company, Milestone Venture Partners, New Leaf Venture Partners, Safeguard Scientifics and the Partnership Fund for New York City.
The first class of startups has rasied more than $21 million in funding with Avado and Remedy Systems acquired within six months of graduating.  
Here are the seven startups for the 2014 Class: 
AllazoHealth addresses the problem of medication non-adherence by leveraging existing member data to anticipate which patients will not take their medications to predict how best to effectively influence each patient to take their medication.  (www.allazohealth.com)
Clinigence's solution-built around clinical data analytics, sematic data aggregation, and predictive modeling-provides real-time clinically-based reports about care gaps which help healthcare providers improve outcomes to proactively address the shift to value-based models and the growing demand for quality patient care. (www.clinigence.com)
Covertix helps healthcare organizations protect and control confidential data shared between patients, healthcare professionals, hospital networks and third party vendors to improve their coordination of care.  (www.covertix.com)
iQuartic's technology merges, structures and mines EHR, PBM, claims and mHealth data for analytics that inform and benchmark care based on outcomes/best practices and adjusted population.  (www.iquartic.com)
Noom makes software to help people live healthier.  For consumers, the Noom Weight Loss Coach, with over 11 million downloads, coaches users on nutrition and exercise. Noom's different patient engagement apps are based on its consumer-facing app. (www.noom.com). 
Quality Reviews empowers patients through their flagship product, RateMyHospital.com, a real-time, mobile patient feedback tool.  (www.q-reviews.com) 
Sense Health uses mobile technology to build personal connections between providers and high-risk Medicaid patients to improve outcomes and the quality of care.  (www.sensehealth.com)