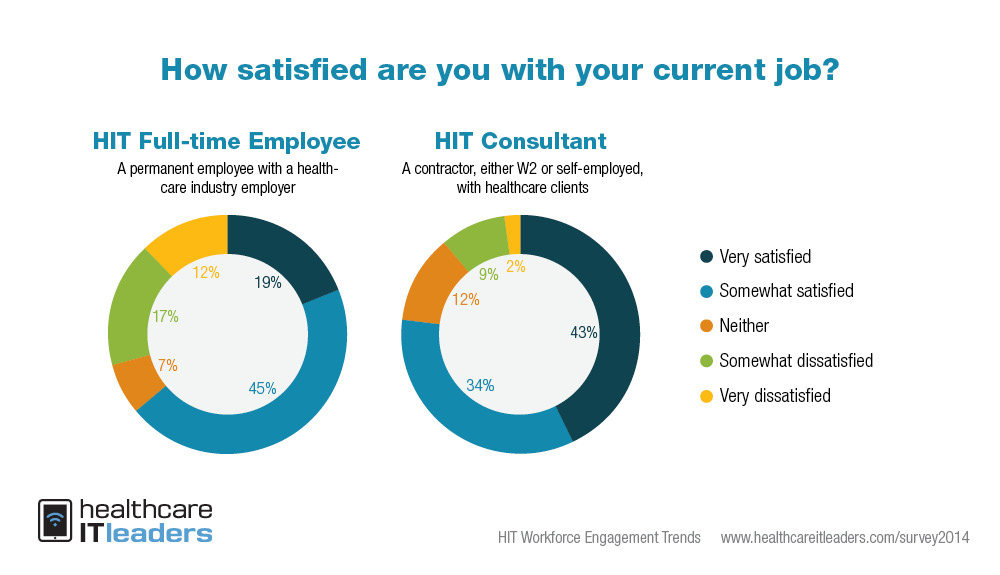 HIT Workforce Engagement survey reveals contract health IT consultants are more satisfied in their jobs than full-time health IT professionals. 
 Healthcare IT Leaders, a consulting and staff augmentation firm that connects hospitals and health systems with top healthcare IT talent, today released the results of its first HIT Workforce Engagement survey examining job satisfaction and career motivations for healthcare IT professionals.
Based on responses from 446 HIT workers, the report highlights key differences in engagement between IT consultants and full-time IT employees (FTEs) in healthcare. Specifically, consultant satisfaction, as measured across multiple criteria, ranked much higher than satisfaction rates for HIT employees and the global workforce as a whole. Key findings include: 
– 77% of HIT consultants in our survey report satisfaction in their current job with 43% saying they are "very satisfied" and 44% "somewhat satisfied."
– In contrast, just 64% of full-time healthcare IT employees report satisfaction with their roles.
-19% are "very satisfied" and 45% are "somewhat satisfied."
Key Takeaways
– Money matters: 40% of consultants said they were "very satisfied" with their current pay, while only 18% of FTEs said the same. Both consultants and FTEs rank "better compensation" as the number one reason they would consider changing jobs.
– Finding meaning: A significant majority of all HIT professionals, FTEs and consultants, say their work is "extremely meaningful" or "very meaningful." Meaningful work correlated strongly to job satisfaction.
Grass is greener: 14% of consultants say they are "very likely" to switch to become FTEs in the next year, while 13% of FTEs say they are "very likely" to become consultants.
– Open to change: Only one in 10 HIT workers is completely satisfied with their job and not open to a new job at this time, meaning most keep an eye on the job market passively or are actively seeking new employment.
– Focus on retention: Keep your team engaged and well-compensated, but also strive to understand the personal motivators of individuals that you hope to retain. 
Download a free copy of the survey report: www.healthcareitleaders.com/survey2014