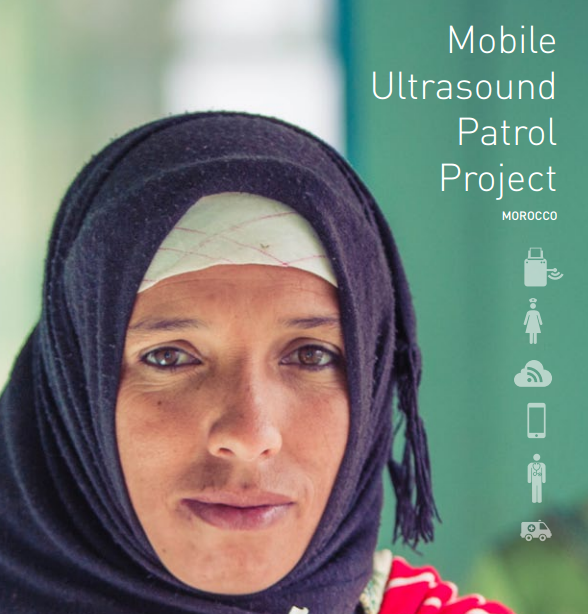 Qualcomm Incorporated, through its Qualcomm® Wireless Reach™ initiative, and Trice Imaging, a mobile medical imaging business  announces the results of their collaborative, 3G "Mobile Ultrasound Patrol" project. 
Every day, around the world, approximately 800 women die from preventable causes related to pregnancy and childbirth. Of those deaths, 40 percent are due to injuries or conditions related to placenta complications. The only way of detecting abnormal placenta challenges is through an ultrasound. Ultrasound medicine is experiencing drastic changes, resulting in a veritable paradigm shift. New technology is disrupting how ultrasound imaging is currently executed by whom and at what cost. Technology creates additional access, reduces costs, which is driving accessibility and paves the way for new, sustainable models of healthcare economics. 
Inspired by the UN initiatives and the knowledge that their combined strengths could truly impact the health of women across the globe and specifically in Morocco, a group of companies combined resources, talent, and passion for mobile healthcare to create something extraordinary: the Mobile Ultrasound Patrol Project. 
Project Background
The Mobile Ultrasound Patrol is a project that seeks to improve care for women in developing countries through early detection and treatment of major causes of maternal mortality. The medical examinations took place in three villages in Morocco — Oulmes, Boulemane and Ribat el Kheir — with reading physicians providing diagnoses in city centers in Morocco and France. Done in conjunction with Fujifilm SonoSite, an ultrasound systems provider and Sony Mobile, the Xperia smartphone division of Sony Corporation; this project used portable ultrasound units, 3G-enabled smartphones and phablets, remote diagnostic software and 3G connectivity to improve care for women in developing countries through early detection and treatment of major causes of maternal mortality.
The key goal was to validate how advanced wireless technologies and connected portable ultrasound devices can provide access to state-of-the-art imaging diagnostics in places it has never been available before at a significantly lower cost. Medical professionals provided proper care to patients in remote areas using encrypted mobile devices that were connected to a 3G/4G network and a sharing platform that enabled experts to perform remote diagnoses. The time and cost efficiencies gained, without any compromise in quality improved the likelihood for early detection and treatment of the major causes of maternal morbidity/mortality, which could ultimately reduce the number of maternal and child deaths. 
Project Impact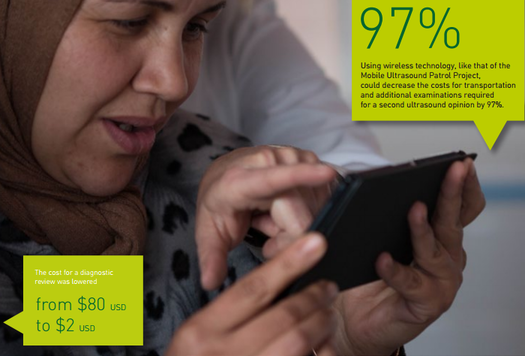 The trial's results demonstrate the potential of using mobile health (mHealth) solutions in maternal care:
– 575 exams were wirelessly transmitted to clinicians
– 94 exams exposed potential at-risk pregnancies
– 158 patients were flagged for a second opinion
– Use of advanced wireless technologies led to:
o   Shortened diagnostic review or second opinion time from two weeks to less than a day
o   Reduced ultrasound costs from US$80 to US$2 per patient
o   Shortened the delivery of medical data for review from four days to two seconds
o   Shortened the time the patient had to wait for a medical opinion from two weeks to less than 24 hours
o   Increased local medical practitioners' skills in delivering ultrasound images from 20 percent sufficient for diagnostic purposes to 92 percent sufficient for diagnostic purposes
o   Participating physicians reported an increased number of patients seeking care at health houses after the trial. The number of deliveries in these facilities increased, which is an important step in reducing the number of dangerous at home births.
For more information:
– See case study
– See full report