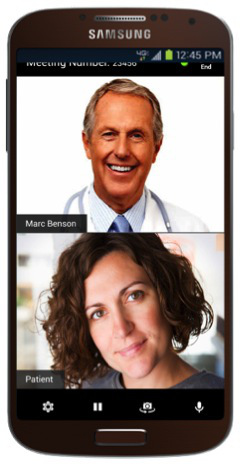 Verizon has today announced the immediate availability of Verizon Virtual Visits, which provides an easy, convenient and cost-effective way for patients to be seen remotely by a clinician for a cold, flu, sore throat or other simple, acute condition via video on their smartphone, tablet or computer.
Verizon's new solution is built to provide an enterprise-class platform for health systems, health plans and employers to meet the needs of their specific patient or member population base, helping to reduce visits to the emergency room for non-urgent care – estimated to run $4.4 billion this year alone.
Verizon Virtual Visits also enables patients, who may not otherwise have convenient and timely access to care, see a clinician. Recent studies show that as many as 62 million Americans have difficulty accessing primary and preventative care, with 27 days as the average time for a new patient to schedule an appointment.
In addition, with Verizon Virtual Visits health systems can benefit from reducing the burden on clinical staff by seeing patients remotely, while health plans can help satisfy members, particularly younger generations, who are increasingly demanding more convenient and less costly options for care. Verizon Virtual Visits can also benefit employers by helping to reduce the time employees take off from work to seek care for themselves and their families.
How Verizon Virtual Visits Works
Patients can connect online with a clinician through a secure app on their smartphone or tablet, or via a Web portal. Once logged in, patients are taken through a set of health-related questions followed by a discussion with a clinician, who evaluates the patient's condition and provides an appropriate care plan. Key features include: 
– Clinicians also can use the platform to electronically send a prescription to the pharmacy of the patient's choosing, where legally permitted.
– Data shared between the clinician and the patient is encrypted during the online visit, as well as afterward when the data is stored in Verizon's HIPAA-enabled Cloud.3
– Clinicians are required to use two-factor authentication (user name/password plus a dynamic code sent to a mobile device) when logging in to see patients.
Verizon Virtual Visits joins the company's mobile health solutions portfolio and is an illustration of its corporate strategy to deliver converged solutions that leverage the company's extensive mobility, cloud and security assets, and its technical and consumer engagement expertise to address big societal challenges.
For more information, see the video shown below: