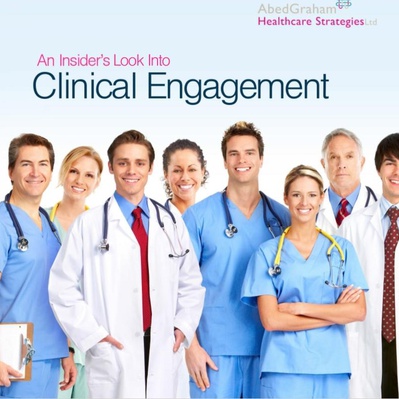 As healthcare informatics continues to generate attention in the media one of the greatest challenges facing start-ups and large corporations alike is the ability to engage healthcare professionals.
An Insider's Look to Clinical Engagement is a free white paper written by the UK based clinical team at corporate strategy consultancy AbedGraham supported by the industry insights of HIT Consultant. This concise paper highlights the increasing prevalence of healthcare professionals in managerial decision making posts and the range of hurdles sales and marketing executives face when attempting to build meaningful relationships with them. Whether its workflow management and clinical documentation software or remote monitoring and mobile health systems all vendors need to be able to secure clinical buy-in which can often be hampered when executives lack experience of:
The Culture of Healthcare

The Language of Physicians

The Complexities of Clinical Workflow

Multi-disciplinary Practice
The team at AbedGraham have all trained and practiced medicine in leading hospitals across over a dozen specialties placing them in a unique position to share their insights as they now advise market leading informatics vendors about clinical engagement and technology adoption. When combined with the up to the minute, industry specific research insights of HIT Consultant this paper presents an opportunity for vendors to understand the healthcare IT market in a way that can create a true competitive advantage.
Download the white paper below to learn more.