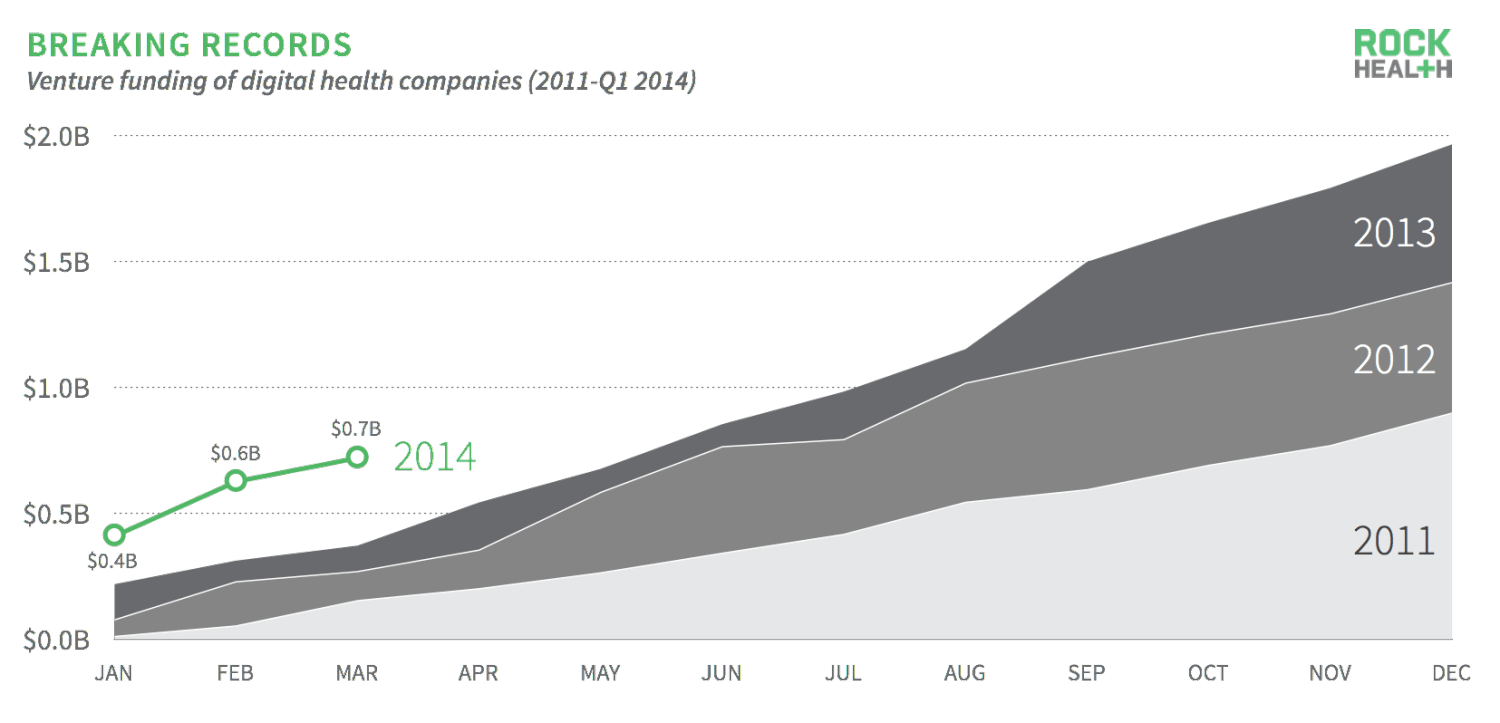 Digital health funding topped $700M in the first quarter of 2014, an all-time high for funding in a single quarter, according to new research by Rock Health. The funding represents an 87% year-over-year growth versus Q1 2013. Average deal size this quarter increased to $13.1M, up from an average of $10M for all 2013 deals.
Payer administration dominated digital health funding this quarter with $120M followed by analytics/big data with $120M. Other leading categories this quarter include:
Telemedicine – $107M
Care Coordinaton – $61M
Alternative Health Tools – $50M
Largest Deals in Q1 2014 
The largest digital health funding deals in Q1 2014 include:
| | | |
| --- | --- | --- |
| Company | Description | Funding |
| MedHOK (Medical House of Knowledge) | Platform for care, quality, and compliance designed for health plans and ACOs | $77.5 |
| | Provider of marketing tools, scheduling, analytics, networking and point of sales services for alternative health, beauty, and wellness providers | $50M |
| | Data warehousing for hospitals | $41M |
| | Provider of smartphone communication alternatives to help improve care coordination for the healthcare industry | $36M |
| | Emergency telemedicine consultations | $32M |
Other key findings include:
Average deal size this quarter increased to $13.1M, up from an average of $10.0M for all 2013 deals.
California continues to represent the most deal flow with 22 deals raising $226M, representing 32% of all funding in the quarter. Florida came in second and saw $165M of funding for five deals.
Castlight Health, Care.com, and Everyday Health IPOs were met with mixed results
Crowdfunding lost some steam this quarter with only $780k coming across both successful and failed campaigns
Indiegogo remains the dominant crowdfunding platform hosting 77% of all campaigns and representing 89% of all crowdfunding dollars
For more of Rock Health's digital health funding insights, visit here.