Since they came into the world, baby boomers have been changing it. The U.S. Census Bureau defines a baby boomer as someone born between 1946 and 1964 — that makes them 75 million strong. Now that they are reaching retirement age at the rate of three million per year, baby boomers are poised to change the face of healthcare with technological advances that meet their demand for smart, savvy and easy solutions to cope with the issues of aging.
Baby boomers are definitely embracing new technologies. According to a 2012 study by Pew Internet Research, 80 percent of baby boomers use the Internet, and 46 percent use a smartphone and are familiar with downloading apps. Up to 84 percent of them are using that Internet access to search for information on healthcare. As baby boomers age and face more health issues, including the treatment of chronic diseases, technology will be forced to grow and change faster than ever to keep pace.
Baby Boomer Technology Making the Rounds
In some cases, technology that has been around for years is getting an overhaul to meet the demand of an aging population. Remote monitoring has been in use for decades, but today it comes equipped with the bells and whistles that tech-savvy boomers enjoy, such as smart sensors that track their movement and send an alert if they fall, medicine bottles that "talk" to doctors if a dose is skipped and wireless monitors that track glucose levels, heart rates and other vital points of day-to-day life.
Some technologies that were designed for everyday use have found their way into the baby boomer toolbox, such as using email for communication with healthcare providers, mobile apps that track fitness levels and patient portals that put everything in one convenient place for a healthcare team to access.
Telehealth programs have made an impact on both convenience and cost, as illustrated by the Department of Veterans Affairs. The V.A. telehealth program, which includes video conferencing and smart monitors, has reduced hospital admissions by 35 percent. For those who are admitted, the program has cut the days spent in the hospital by 59 percent. This translates into cost-savings across the board; telehealth coordinator Adam Darkins told the Washington Post that the VA saves $2,000 for every patient in the program.
Emerging Technologies for Baby Boomers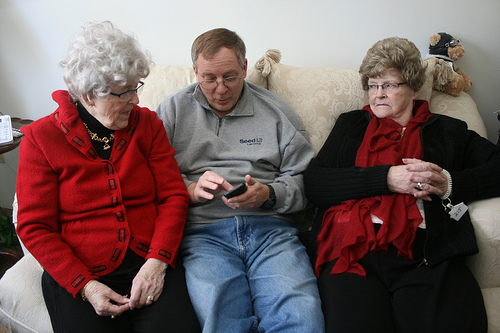 Where the need for convenience, lower cost and high quality care meet, new technologies are born. These are just a few of the technologies that are already making life easier for baby boomers — and anyone else who has a need for health care.
1. Self-service kiosks. Very common in airports, banks and retail stores, when these kiosks appear in healthcare settings, patients seem to approve. Kaiser Permanente introduced 90 self-service kiosks in 60 medical clinics in southern California, and followed up with surveys of patients. It was a success: 75 percent of patients said that the kiosk was faster than checking in with a receptionist.
But even the relatively new self-service kiosk is already being tweaked and changed. The Mobile Patient Communicator, marketed by International Medical Solutions, offers an alternative has all the function of a kiosk but is lighter, more personalized, and at about the size of a tablet, easy to move around.
2. E-visits. In a world where almost anything can be had over the Internet, why not healthcare? E-visits provide patients with an opportunity to get answers to common questions, guidance on whether a problem is serious enough for an in-person visit and even a diagnosis of simple issues. E-visits often cost much less than a regular office visit, and those visits might be covered by insurance.
3. Wireless monitors. Getting in touch with a doctor used to involved calling a receptionist and making an appointment. Now it might be a matter of simply pressing a button or two. Monitors that track everything from blood pressure and heart rate to glucose readings can send the results instantaneously to healthcare providers, who can then make suggestions or changes in care within a matter of hours, not days or weeks. Faster adjustments could mean better health and peace of mind.
4. The smart home. Baby boomers want to age in place, but that can be tough when some medical conditions require constant monitoring. The solution is a home outfitted with the latest technology to keep patients connected. Smart homes can include motion sensors, pressure-sensing tiles, and beds that are wired to collect vital signs. A good example of things to come is the Health-e-Chair, which tracks a wide range of vital signs, including lung sounds and blood oxygen saturation.
Medical Technology of the Future
Implanted chips that hold all your medical information, vaccines and other medications delivered by painless laser technology, biosensors that measure glucose through the use of reflected light — these advancements sound more like science fiction than reality, but they are already here, being tweaked for use by baby boomers who demand the best in high-tech, quality care. As baby boomers age, expect to see even more high-tech medical technology moving from futuristic concept to reality.
Featured image credit: dullhunk via cc
Image credit: quinn.anya via cc