New wearable device allows clinicians to see "through" a patient's skin for fast, accurate and precise venous access. 
40% of IV starts require multiple attempts to locate and access a vein contributing to patient discomfort and dissatisfaction, according to studies.  To solve this pain point, Evena Medical has recently unveiled a pair of glasses that allows clinicians to 'see through' a patient's skin to easily locate veins for intravenous placement. Evena's point-of-care Eyes-On system is the first vein detection device to deliver clear, anatomically accurate, real-time imaging in a wearable, easy-to-use, hands-free and cart-free system. The system has telemedicine capabilities to share images remotely and interfaces with a hospital's EMR systems for seamless documentation.
How it Works
The Eyes-On system utilizes the Epson Moverio– "smart glasses" technology platform and its unique "look-through" capabilities to offer one of the first healthcare applications of smart glasses commercially available on a global scale. The glasses utilizes multi-spectral lighting to highlight deoxygenated hemoglobin to see veins beneath the skin and two digital cameras that transmit images wirelessly using Bluetooth, Wi-Fi or 3G connectivity. On-board data storage allows documentation of a procedure, including videos and photos.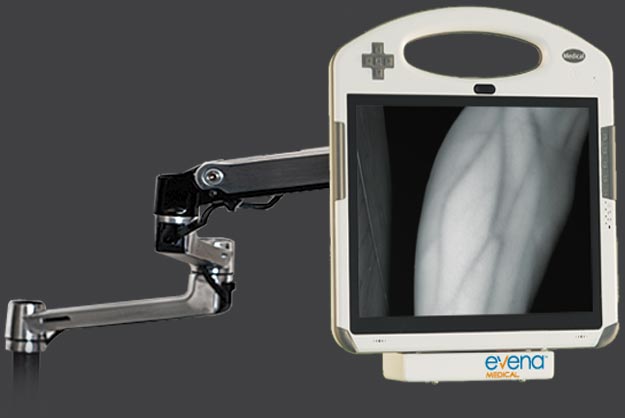 "With this we can image a large field of view for peripheral veins," said David Yeh, executive vice president of sales at Evena Medical told Computerworld. "This is helpful to locate appropriate veins for IV access…. One stick , one nurse, in one minute."
The product is targeted for hospitals and being adopted by paramedics and EMTs to start IVs in patients quickly and permit them to connect with clinicians at the receiving hospital.