Lois Drapin shares her insights on Validic's data integration and innovation offerings along with the wisdom its founders have for fellow entrepreneurs.  

One of the keystone aspects of "ecosystems" is interoperability and this also applies to the data pipeline that flows from health apps and devices to the appropriate segment of the healthcare delivery system, and eventually, to the users—patients, consumers and/or medical professionals such as physicians and nurses or other clinicians. By now, we all know that the capture and analytics for both "big" and "small" health data are business imperatives for healthcare in the US. With data of this nature, we can embrace our understanding of behavioral change at the individual and population levels. The anticipated outcomes of behavioral change may power operational and cost efficiencies in the healthcare industry.
But data will no longer come from just inside the healthcare delivery system. In addition to the changing technology enablement within the health system, as we all know, data will flow from many things—in fact, The Internet of Things (IoT). This means that data that relates to our lifestyle, wellness and health will pour from the many types of wearable devices not now connected to the heath delivery system. In addition to our computers, tablets, phablets and smartphones, are the many sensors paired with tech innovations such as the wearables— from wristbands, smartwatches, clothing (from shoes to headbands), glasses, contacts, and pendants — to things such as refrigerators, clocks, mattresses, scales, coffee pots, cars, and even, toilets…all of which are predicted to become an important market in the coming years.
Validic, based in Durham, NC, has put itself smack in the middle of that market by providing easy, affordable, efficient and accessible data integration services to four customer markets, or what CEO Ryan Beckland and Cofounder and CTO Drew Schiller refer to as the 4Ps: payers, providers, preventive-wellness companies and pharma. Validic also works with consumer electronics companies and infrastructure companies. The data they pipe to these customer segments currently comes from device and health app developers. You can imagines as the IT market grows, data pertaining to health-related initiatives might also participate with Validic.
Beckland and Schiller admit their website requires a bit of updating, but they have integrated 123 devices and apps. I would bet that this number has increased since the first of the year, when I last spoke with them. They do this by providing the Validic Enterprise mHealth API to developers and customers. They like to say that Validic provides a "one-to-many connection for healthcare businesses and app developers." Beckland and Schiller believe their enterprise API will become a true standard for interoperability. Think about this. This is a company without skin in the game, neither in the mHealth app or wearables markets, nor does it develop or own any proprietary device or app to protect. Validic sits in the middle of all that is happening with let's say, neutrality, and provides customers and developers with an assist toward attainment of their business goals. The stream of data they can provide to customers will vary with the specific business-use case. Moreover, hospitals, ACOs, pharma, health plans and wellness companies won't have to initiate negotiations with each and every device and app out there. Customers can have turnkey data access.
You may have heard about Validic from initial reports published in November 2013 on MobiHealthNews, announcing that Mark Cuban (one of TV's Shark Tank entrepreneur-investors known for his ownership of Magnolia Pictures, Landmark Theaters, and the Dallas Mavericks) had just participated in Validic's $760,000 seed round. It's one of those announcements that makes you do a double take, and well, keep an eye on the ball, so to speak.
According to its founders, Validic collects 200 data points across all apps and devices— a wide range that includes fitness and activity tracking, nutrition and biometric data (weight, blood pressure, oximetry, glucometry, among others), data of interest to medication adherence in COPD, asthma, and other data of interest to their various customers. The data is de-identified, and Schiller affirms that Validic is "fully HIPPA-compliant." Validic connects to devices and apps by providing its Enterprise API and by doing that, they are providing a large population data set available to all participants.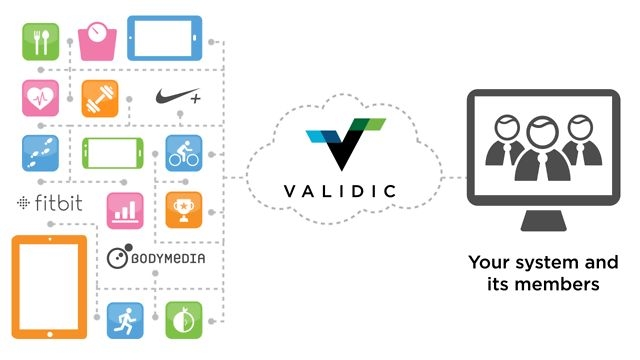 Validic soft launched in January 2013 and had its market launch in April. According to its founders, Validic will be deployed with a 30-million population base during Q1 2014. Under its current contracts, the company is looking at an additional 70 million lives in the Q2. With Validic's recent attendance at mHIMSS and CES 2014, my bet is that Beckland and Schiller brought home some new contracts, customers and developers.
Continue reading