Population health management helps providers manage a patient's health wherever they are in their care experience, as the time patients actually spend with their clinician is very minimal.
Marci Nielsen, PhD, MPH, CEO of Patient-Centered Primary Care Collaborative understands the importance of population health and gives tips on how using the medical neighborhood to support population health is the answer to success in the video shown below from Best Doctors.
About Marci Nielsen, PhD, MPH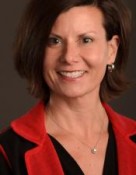 Marci Nielsen, PhD, MPH, joined the PCPCC as Chief Executive Officer in 2012. Prior to the PCPCC, Dr. Nielsen served as Vice Chancellor for Public Affairs and Associate Professor at the University of Kansas School of Medicine's Department of Health Policy and Management. Dr. Nielsen was appointed by then-Governor Kathleen Sebelius as first Executive Director and Board Chair of the Kansas Health Policy Authority (KHPA). She worked as a legislative assistant to U.S Senator Bob Kerrey (D-Nebraska), and later served as the health lobbyist and assistant director of legislation for the AFL-CIO.
She is a board member of the American Board of Family Medicine, and former member of the Health Care Foundation of Greater Kansas City, TransforMED LLC and the Mid-America Coalition on Health Care. She was also a committee member for the Institute of Medicine's Leading Health Indicators for Healthy People 2020 and Living Well with Chronic Illness: A Call for Public Health Action. Early in her career she served as a Peace Corps volunteer working for Thailand's Ministry of Public Health and served for six years in the US Army Reserves. Dr. Nielsen holds an MPH from the George Washington University and a PhD from the Johns Hopkins School of Public Health.