Learn about the three major themes driving the trends that will forever change healthcare. Coauthor Fard Johnmar explains.
It's no secret that the movement of the "e-patient" is well underway. Armed with a slew of mobile devices and ample information at their fingertips, patients are looking at their healthcare a bit differently these days. As a result, healthcare providers need to start looking at their patients in a new light—because innovation isn't just changing healthcare from a technological perspective—it's a changing it from a human one, too.
At least that's the prevailing message in Fard Johnmar's and Rohit Bhargava's new book, "ePatient 2015: 15 Surprising Trends Changing Healthcare." The book, which was written with the intent of demystifying how digital technology is poised to profoundly change the healthcare landscape, is the culmination of an effort nearly four years in the making.
Johnmar, who is a futurist and president and founder of digital health consultancy Enspektos, first met Bhargava, the best-selling author of "Likeonomics" and CEO and founder of the Influential Marketing Group, in person in 2009 during an FDA hearing on how the agency should regulate pharmaceutical marketing on social media and the Web. About a year ago, the pair decided to work together to collect and interpret an amalgam of evidence (including original survey research, news reports, and published studies) to explore and explain what's to come from the evolution of digital technology that has given rise to the e-patient.
According to Johnmar, with healthcare technology reaching its peak of popularity, it's the perfect time to start making sense of it all.
Fard Johnmar

"We're currently at an inflection point in terms of how technologies, culture, history, and legislation are changing health and medical care in the United States and around the world. Two accurate words to explain the current situation would be exciting and confusing. With this book, we want to bring much-needed clarity to the rapid changes taking place in health globally and put a human frame on the events we are all seeing play out on a daily basis in healthcare," he said.
A Human Approach to Healthcare Technology  
With that in mind, the book takes a deep dive into the digital world by first putting that human frame front and center in the form of two fictional characters, Sally and Henry. Sally has a feverish three-year-old, and Henry has a life-threatening illness, but in 2015 they have something in common thanks to technology—unprecedented access to helpful and sophisticated health information, access to medical professionals, digital tools, and improved social support.
Instead of merely focusing on the impending influx of wearable health-monitoring devices, health applications, electronic medical records, DNA analysis, social media outlets, and online forums, Johnmar and Bhargava introduce the topic with what's really exciting about technology's potential in healthcare: the way it can improve, and perhaps even save, lives. In 2015, Sally is a mother with greater access to technologies and medical professionals to help her ailing child, and Henry is a patient with a newfound sense of hope in beating his illness thanks to advances in DNA analysis and online support. It's quite a profound and personal preamble to a book focused on technology, but for Johnmar and Bhargava, it was important that they get personal about healthcare technology before getting technical.
"The future of healthcare is about more than economics, politics, and individual technologies," said Johnmar. "We want readers to come away with a deeper appreciation to the human side of innovation and understand that looking at the big picture is required, rather than optional."
So what does that big picture look like for healthcare? That was the question that drove Johnmar and Bhargava to researching the relationship that is progressing between humans and health-related technology, which ultimately lead them to discover 15 surprising trends. To understand those trends, however, you must first understand why they exist.
Three Themes Explaining How Healthcare is Changing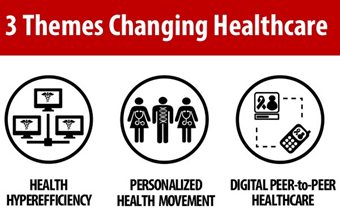 As the book details, technology is increasingly being viewed as a method of tackling healthcare's biggest challenges, including skyrocketing costs, the ineffective practice of generic, or non-personalized medicine, and limited social support for patients. As a result, three notable themes explain how innovation and technology is being used to change healthcare.
1.     Health Hyperefficiency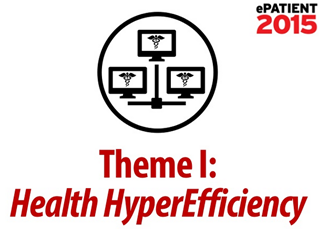 Innovations in computing are changing the way health information is recorded and delivered between patients and providers. Electronic health records (EHRs), clinical documentation tools, and telemedicine devices are changing the way providers collect and consume health information regarding their patients. As a result, this theme, which also highlights the importance of data integrity, is giving way to some interesting trends, including the humanization of technological interfaces (Empathetic Interfaces) and raised concerns over protecting patients' digital health information (Unhealthy Surveillance).
What may be one of the most interesting trends developing from this theme, however, is Predictive Psychohistory, in which the data collected by these documentation tools is being used to make large scale predictions regarding population health. Predictive modeling is quickly becoming a cornerstone of population health management. So, it will be interesting to see what impact this trend has on reducing healthcare costs and enhancing disease management efforts.
2.     The Personalized Health Movement
Thanks to the proliferation of genetic, behavioral, and digital tools designed to monitor and manage personal health, a movement toward personal health treatment is also developing. Bolstered by big data, this theme is propelling eight of the 15 trends in the book, some of which hold a lot of promise in providing future patients with a multitude of treatment options and information. While this theme holds great promise for healthcare, it is also responsible for some of the most problematic trends emerging for e-patient. One such trend is The Over-Quantified Self, which exposes the frustration and confusion associated with the array of wearable health devices and applications now at e-patients' disposal.  As some studies suggest, patients may avoid or discontinue using these devices if using them proves too complex, or if the results are negative and continually discouraging.
Another troubling find unveiled in the book is the Digital Divide. While one may they think technology is creating a bridge over socioeconomic disparities, the book's findings point out that those barriers still exist. Thus, there are still hurdles to jump when it comes to placing the necessary tools or information within patients' reach.
Johnmar explains: "There is a lot of good news when we talk about mobile health applications and how they are helping to ease the traditional aspects of the digital divide, both here in the United States and globally, regarding internet access and computer use. However, the divide actually goes far beyond Internet use and is related to a range of issues including, provider access to EHR technologies in underserved communities, or the functional device divide, for example, which relates to not having the ability to access the latest medical devices such as prosthetic limbs because of economic factors. Technology is taking us far but there are still disparities and cultural issues that we need to recognize and address."
Similarly, the trend of Multicultural Misalignment has emerged, demonstrating that there is lack of diverse voices (such as minorities, women, and the elderly) in the larger innovation economy. "We argue that the innovators who don't have the ability to look at the world from the perspective of low-income people, people of color, older adults, women, etc. will develop digital health and technologies that are either ineffective or will go unused. We hope that talking about these challenges will help innovators recognize and address this issue."
Not all the trends in the personalized health movement point to problems, however. One of the most surprising and, perhaps, telling trends emerging from the movement is known as Healthy Real Estate, where people are basing their decisions on where to move based a location's proximity to parks, recreational centers, local/organic food, quality health facilities and other health and wellness-related amenities. "This trend is a testament to the fact that people are realizing their environment has as much to do with their well being as the food they put in their bodies," said Johnmar.
3.     Digital Peer-to-Peer Healthcare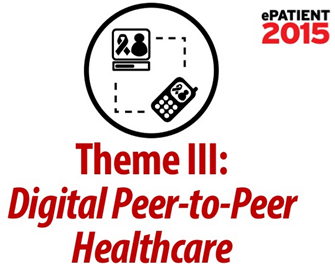 Web, mobile, and social technologies are converging to help patients and care givers navigate the new health insurance landscape, select providers, research treatment options, and seek out avenues of social interaction and support.  As a result, there is one major trend emerging that is perhaps responsible for helping to further empower e-patients: Care Hacking.
This trend actually demonstrates the progression of the patient-doctor relationship made possible thanks to patients using the Web to improve their ability to understand their care, talk with their doctors, and get faster and more affordable care. While there is still debate on whether the Internet is more helpful than harmful when it comes to healthcare, the evidence that it's empowering patients to be more proactive about their health is very encouraging, says Johnmar.
Still, it can be hard for providers to get a handle on all the new technology while appeasing those newly empowered patients behind their screens. But as Johnmar and the findings of the book repeatedly point out, technology in healthcare is here to stay, so it's best to embrace it.
"From the physician perspective, the Internet and social media have challenged the doctor-patient relationship in profound ways," he said. "Technologies, like genomics and sensors, will test this relationship further. However, technology shouldn't be viewed as an enemy, but an ally. Despite the many issues associated with EHRs, they do promise to help doctors diagnose patients in new ways. In fact, a day is rapidly approaching when doctors can shift from putting out health 'fires', to using genetics, data, and other tools to reduce medical errors and prevent people from getting sick, or sicker, in the first place."
Themes, problems, and trends aside, there is one central certainty that seems to emerge from reading Johnmar's and Bhargava's book: Technology isn't just reshaping the human perspective on how to consume information and connect with others, but is shifting the way we look at our world. Perhaps the real prize here isn't what this book reveals about how we are using technology, but why we are using it in the first place.
For we are striving to achieve a greater connection and communication with each other and the world we live in, using virtual vigor to strengthen what is most precious and real: the human experience. Once you understand that, it's easy to make sense as to why nearly everything we know about healthcare is poised to change. Johnmar and Bhargava see it coming. Read the book, and perhaps, you will see it, too.
If you'd like to learn more about ePatient 2015, click here to read an excerpt of the book