Health IT Companies looking to succeed in the new health economy that rewards better care must change how they innovate, finds PwC's Health Research Institute. 
The HRI
report
outlines how medtech companies need to expand their approaches to innovation outside traditional R&D, in order to remain competitive. According to the report, only 14 percent of medtech executives say that they formally manage innovation activities, which is essential to creating new services and business models. And just 17 percent believe their companies are innovation pioneers.The research includes a web-based innovation scorecard that assesses companies based on leading practices in organizing, managing, and fostering innovation.
Creating An Innovation Engine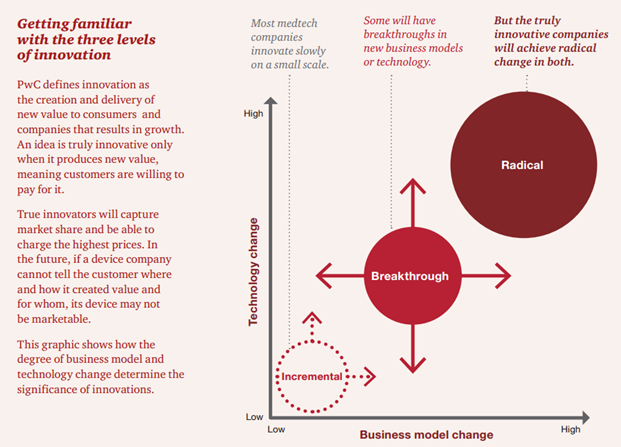 Innovation is critical to long-term success, but it can take many forms depending on a company's culture, stakeholders, and customer-buying behaviors.  The report identified three ways med tech companies can create an innovation engine that will help them manage truly game-changing innovation and find new sources of revenue.
1. Be ambidextrous – Companies must operate as a "lean startup" while concurrently maintaining lean six sigma discipline to sustain the core businesses.
2. Measure innovation in new ways -Companies must manage the innovation cycle differently than the operating cycle.
3. Collaborate to get closer to the patient – Medtech companies must look increasingly to external customers, partners, and even competitors to help them generate valuable insights and widen the funnel of ideas flowing into the organization
Other key report findings include:
The value of a device is no longer solely in the product itself but in a company's ability to help customers solve broader problems.
New competitors are staking their claim – at least 18 companies have entered the medtech space and are driving innovation at the pace of technology.
New integrated services and business models that address clinician and consumer needs are becoming more important.
Medtech executives expect a higher level of innovation over the next three years but lack formal processes to achieve their goals for new services and business models.
Medtech companies have been slower to apply new social, mobile, analytic, and cloud (SMAC) technologies than other industries.
Medtech companies are looking to open innovation as a key approach to drive future growth.
Download: Medtech companies prepare for an innovation makeover
Image credits PwC HRI Medical Technology Innovation Scorecard