New UPS survey highlights supply chain concerns for healthcare executives looking to drive business change & meet business goals.
Over the next five years, 84 percent of global healthcare executives will invest in new technologies, according to a recent UPS survey. The sixth annual UPS Pain in the Supply Chain survey highlights the emerging shift changes in the healthcare supply chain, as executives look to their supply chains to meet their business goals.
Conducted in February through April of this year by TNS on behalf of UPS surveyed a total of 441 healthcare executives in the U.S. and Canada, Western Europe, Asia and Latin America. Qualified respondents were senior-level decision-makers responsible for supply chain and logistics in the pharmaceutical, medical device and biotech industries.
Background
There is an approaching shift in the healthcare supply chain. Companies are focusing on transformative strategies and looking to their supply chains to impact business change and meet high-level objectives. Concerns around increasing regulations, cost management and product protection remain; however healthcare executives are seeing measured success from supply chain strategies they have put in place to address these areas. At the same time, they are preparing for further investments to build on effective strategies and for additional transformations to meet new industry demands.
Healthcare Supply Chain Concerns
The supply chain concerns keeping North American executives up at night relate to regulations and cost management. Sixty percent cite cost management as a top supply chain concern, a higher percentage than their peers around the world. Regulatory compliance is also a top concern for logistics executives in North America, and is the top barrier to global expansion for North American healthcare executives. Despite the high level of concern, executives are successfully addressing issues there in a variety of ways, ranging from performing supply chain optimization analyses to investing in logistics partnerships.
Other top concerns for healthcare executives in North America include:
Regulatory compliance, 63 percent
Product security, 53 percent
Managing supply chain costs, 51 percent
Product damage or spoilage, 43 percent
Access to global markets or new customer bases, 37 percent
Changing distribution and go-to-market channels, 25 percent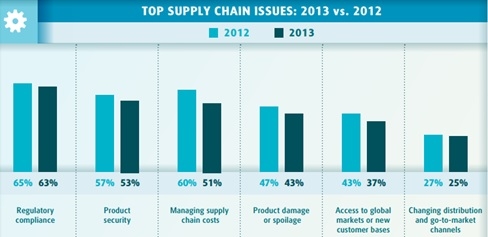 Other key findings of the survey include:
78 percent of healthcare executives will enter new global markets
70 percent will implement new distribution channels such as going direct to providers, retailers and even end-patients
59 percent will increase reliance on third-party logistics partners
Executives face challenges in product security with the top concern being increasing counterfeit sophistication at 48 percent followed by poor supply chain visibility, with 40 percent citing it as an issue
50 percent are still feeling the impacts of the economic downturn
Concerns over healthcare reform and legislation closely follow at 46 percent
40 percent of executives worldwide are also worried about intellectual property protection
Meeting the demands of regulatory compliance is the top concern for two-thirds of healthcare logistics decision makers
60% of survey participants signaled managing supply chain costs as another concern. Executives have made strides to address those challenges
56% have seen success from logistics and distribution partnerships
49% have improved cost management through bar coding, serialization or e-pedigree technologies
44% have benefited from a supply chain optimization analysis
For more information on the UPS Pain in the (Supply) Chain survey and to download an executive summary, visit www.pressroom.ups.com/healthcare.