CDW Healthcare infographic highlights 5 healthcare IT trends that are transforming healthcare. 
Earlier this year, CDW Healthare, provider of technology solutions and services for the healthcare marketplace released their Health Tech Report identifying 10 trends that will impact healthcare IT in 2013 and beyond.
To accompany their report, they have created infographic shown below that summarizes some of the healthcare IT trends transforming healthcare in 2013 and beyond. The 5 trends highlighted in this infographic are:
1. Mobile Networking
Extended care e-visits and home telehealth are among the 11 emerging technologies that have the potential to improve care and lower costs for patients with chronic disease.
2. Desktop virtualization
The adoption of desktop virtualizations in hospitls is expected  to grow by 44% in 2013 according to Imprivata's "Desktop Virtualizaion Trends in Healthcare 2012." Benefits include fast, highly secure data assess for mobile clinicians across shared workspaces with low maintenance.
3. Data will continue to play a role, big or small
With an eye on accountable care, many healthcare providers see big promise in analyzing the burgeoning mounds of structured and unstructured "big data." A recent report from Frost and Sullivan predicts that while only 10% of U.S. hospitals implemented data analytics tools last year, more than half will do so by 2016, with the goal of discovering  patterns and insights helpful for improving treatment and reducing costs. But there's also evidence that the simple data mining strategies of basic EMRs can go a long way toward improving care management.
4. Patient mobility
Helps support positive health outcomes, improved safety, adherence to meaningful use and more productive workflow. 66% of doctors use iPads or other tablets for medical purposes, up from 45% a year earlier.
5. Telehealth reins in readmissions
As the goverment continues to penalize hospitals for high readmissions rates. Telehealth and remote patient monitoring solutions can help provide coordinated, personalized care, helping patients avoid the health complications that can lead  to re-hospitalization.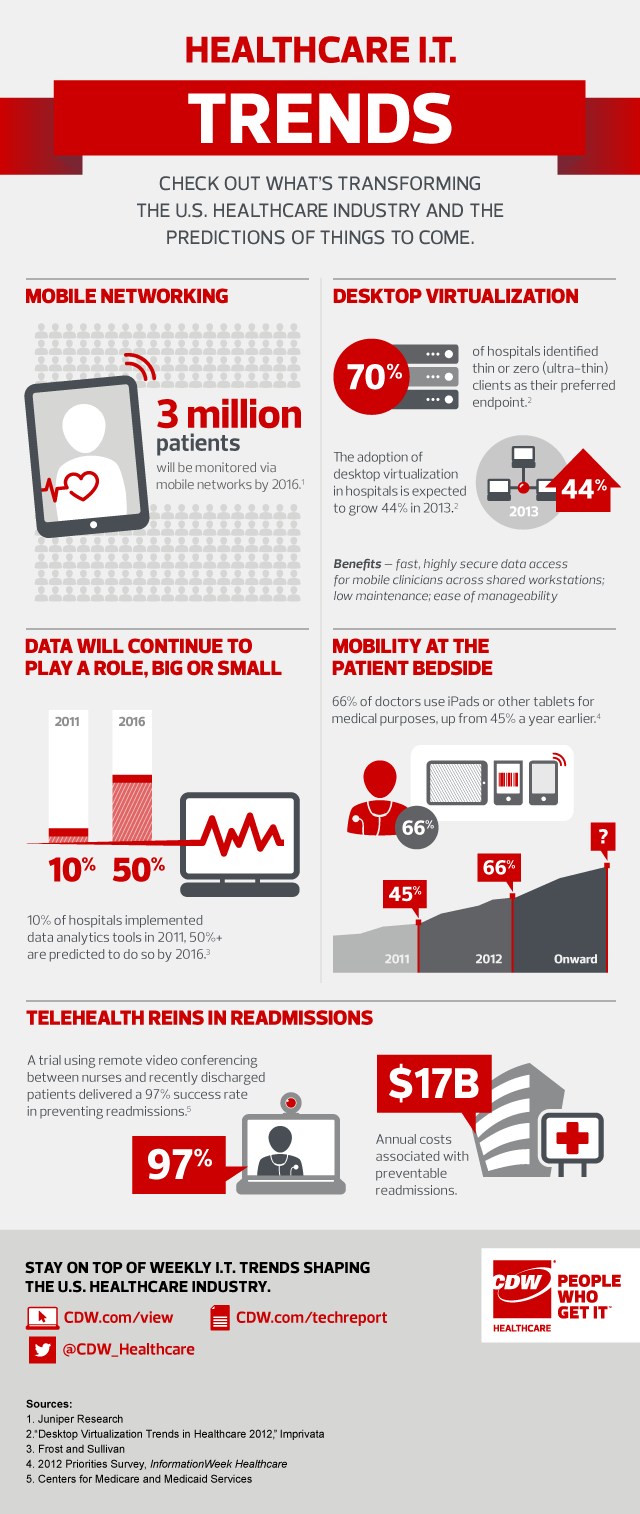 The top ten trends listed in the Health Tech Report are:
mHealth Crisscrosses the continuum of care
Innovation at the patient bedside
Meaningful progress with Meaningful Use
Boom in patient-centered medical homes
IT pays to mine that data, big or small
Telemedicine reins in admissions
Better connected to better outcomes
Popularity of desktop virtualizations
Home is where the care is- or will be
Wearable technology