Learn how one innovative HIT startup Eligible is modernizing the insurance eligibility process through harnessing big data one query at a time. Eligible's co-founder Katelyn Gleason explains.
It's no secret that big data promises to impact the US healthcare system in a really big way: It's estimated that it could create more than $300 billion in value every year by enhancing quality and developing efficiencies to reduce expenditures. That is, indeed, big.  But who's going to take on that tall task of deciphering all that data to create efficient workflow practices? Well, there's Eligible for starters.
The emerging San Francisco-based startup has embarked on the big data enterprise by creating an API (application programming interface) for healthcare eligibility queries. Today, most eligibility queries are still conducted via telephone, which is often a time-consuming, costly and ineffective method of ensuring patients have coverage for medical procedures. On average, it costs between $3 and $4 to process one such claim, and according to Eligible's co-founder Katelyn Gleason, that's not the only cost.
"I can't tell you how many times a doctor winds up unpaid for his or her work because the patient ends up not having coverage… or how many times a patient ends up with a massive bill from a procedure that took place six months ago because he or she thought it would be covered by insurance," said Gleason. "Access to this information needs to be instant; the existing 30-minute phone calls and manual paperwork are just not cutting it anymore."
The API Approach
It was those very frustrations that drove Gleason and co-founder Patrice Krakow to form Eligible last November. Gleason learned firsthand about healthcare's struggle with data interoperability early on in her career as an employee at DrChrono. She met Krakow, who worked in data integrations (specifically in data exchange) for 15 years, via stackoverflow.com during her quest to learn more about X12 EDI (electronic data exchange) and HL7 (Health Level Seven) standards used by all insurance companies/data sources across the country.
After examining the inadequacies of the current data query technologies driven by X12 EDI legacy systems, the pair bootstrapped Eligible in the attempt to develop a more effective product.  Eight months later, Eligible's REST API was completed and entered the market with the promise to bring swiftness and simplicity to the eligibility query process to medical providers and insurance carriers alike.
Today, Eligible's API is connected to 700 insurance companies throughout the US, and it's quickly gaining an edge on its competition thanks to its volume pricing. Even a minimum of 250,000 transactions per month only carries a five cent price tag per transaction, a notable cost reduction compared to offline queries. Companies like Kareo are processing thousands of transactions daily through Eligible; in total, the startup processes more than 10 thousand daily transactions for its customers. With that kind of capability and flexibility built into such technology, it's easy to see why the market is sitting up and taking notice.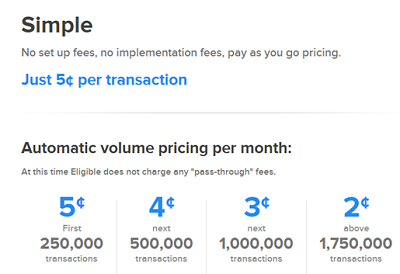 "The competition uses the old X12 EDI interface, which forces customers (developers) to spend resources on months of development work," Gleason said. "Our API allows our customers to completely bypass the EDI transactions and accomplishes the same goal of connecting to more than 700 information sources in mere hours rather than months."
Gleason continued: "The competition has a perverse incentive to offer the same, easy-to-implement service because they are also the providers of applications for hospitals and other health organizations, thus they would be cannibalizing themselves to innovate beyond that. They like the fact that the X12 EDI interface serves as a massive barrier to entry."
While some may continue to bolster those barriers, Gleason and Krakow are far more interested in breaking them down –and quick. Although Eligible will be busy tapping into the ample market of eligibility queries (there were approximately 2 trillion last year alone), the company is also setting its sights on bringing technical simplicity to other relevant processes, including pre-authorizations, claim status, claim submissions, and real-time claim payments.
Brace for Impact
Eligible hopes to have all those transactions running as effortlessly as Visa or MasterCard payments by the end of the year. Another large year-end goal is to hit 1 million
transactions per week, and the company's ambitions won't end there.  "We are seeing a window of opportunity where we can be the one place where all medical transactions such as billing, diagnostic, clinical, and pharmaceutical, can be normalized, passed, and easily integrated into existing health systems," said Gleason.
Taking on the task of breaking down the already broken-down legacy infrastructure isn't as easy as it sounds. Nevertheless it's a vital piece to the big data movement. The healthcare industry needs companies like Eligible to do the heavy lifting of modernizing the technological infrastructure if it's going to garner what it hopes to gain from big data.

Thanks to a healthy head start, Eligible has the potential to be a formidable player in the process. It's already proven it has both the courage and the coding skills to get the job done. To date, the startup has seen a 60% growth week over week since it started and has raised approximately $750K in seed capital from Y Combinator, Rock Health, Deerfield, Start Fund, and number of angel investors.
Bearing that in mind, the opportunities for Eligible seem substantial, as do the benefits for healthcare.  How companies like Eligible will piece together the big data puzzle to create a fully integrated and efficient technical infrastructure isn't entirely clear yet. What is apparent, however, is that big data's potential impact is unfolding perhaps more quickly than we would expect.  And Eligible seems to be a perfect example of that.