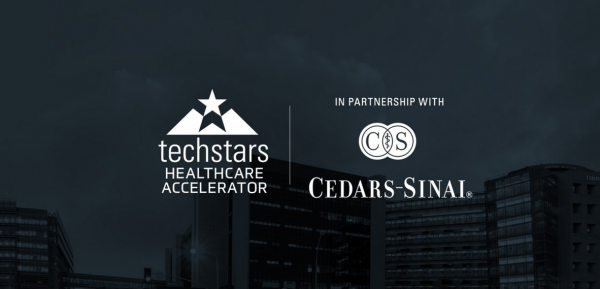 Techstars Healthcare Accelerator, in partnership with Cedars-Sinai, today announced the 10 digital health startups selected to participate in its third class. From artificial intelligence to new devices and disruptive services, these innovative healthcare-focused startups are working to transform health and healthcare delivery as part of the Los Angeles-based accelerator program.
The three-month accelerator will offer mentorship and guidance from clinicians & administrators at Cedars-Sinai, healthcare industry experts and investors and entrepreneurs from the Techstars network, along with up to $120,000 investment per company. The startups, chosen from a field of 650 applicants, also will have access to Techstars' network of entrepreneurs and corporate partners.
Through their innovations, the companies seek to address some of healthcare's most pressing challenges, particularly the experience of patients. Tasso, for example, makes blood testing simpler and more affordable through its device that allows patients to collect their own blood samples at the push of a button and send to labs for a broad range of diagnostic tests.
Past company participants in the accelerator have achieved notable success, including Inscope Medical, which completed FDA registration for its high-tech disposable laryngoscope in April; Stasis Labs, which has successfully deployed a cloud-connected vital signs monitoring system to 12 hospitals across India.;WELL Health, a text messaging platform for patients used by more than 120 physician offices and clinics at Cedars-Sinai; and Deep 6 AI, which uses artificial intelligence to help researchers find patients for clinical trials, and is deploying across Cedars-Sinai.
Here is a look at Cedars-Sinai + Techstars Healthcare Accelerator's third class of ten digital health startups:
1. Aiva
Aiva, the world's first voice assistant platform for hospitals and clinical environments, is reimagining bedside care coordination. Through a voice assistant, like Amazon's Alexa, Aiva intelligently processes each patient request and automatically routes it to the appropriate care team member via the caregiver's mobile device. Aiva streamlines provider-patient interactions, empowering patients to more effectively communicate their needs and freeing up nurses to conduct more direct patient care.
2. CancerAid
CancerAid, the number one most downloaded cancer app in the US, UK and Australia, provides individualized cancer therapy information and resources to patients and their caregivers and empowers patients and caregivers during their care journeys. CancerAid enables providers to intervene early by tracking cancer patient's daily habits and vitals and alerting providers in real time if patients record an unusual symptom.
3. ChoiceMap
ChoiceMap helps doctors and patients make treatment decisions together. When patients make treatment choices, like partial vs. full mastectomy, chemotherapy vs. radiation or IUD vs. hormone patches, they must take various factors into account, and these decisions can be difficult. ChoiceMap's software personalizes recommendations based on each patient's clinical condition and personal preferences and provides a clear process to follow. The simple app enables doctors to better understand their patient's values and enables patients to understand their treatment options.
4. GYANT
GYANT is an AI bot that uses text messaging or voice-enabled technology to connect with patients, ask about symptoms in a chat setting, and based on their responses, help identify probable causes and give information and next steps. GYANT gets smarter each time it is used, using artificial intelligence to walk patients through their symptoms and their medical options so they can ultimately access the care they need.
5. Invio
Even today, paper and binders are the norm in clinical trials. Invio's cloud-based content management systems optimize clinical trials and reduce cost and increase efficiency by digitizing the process. Invio eliminates busy work and human error, and improves data quality. Removing a piece of the huge time and capital barrier of clinical trials can allow new drugs, devices and treatments to get to market more quickly, and improve the likelihood that drug companies will take on the cost of trials involving rare diseases like childhood cancers.
6. Lumeon
Lumeon is taking a fresh new approach to healthcare delivery and patient care, by creating automated pathways based on patient medical conditions and need. Lumeon allows providers to set up "if-then" protocols to make sure that patients get all of the right follow-up based on the advice they've received and procedures they've had. Automated care pathways ensure that nothing slides under the radar, allowing physicians to provide more effective health outcomes at a lower cost.
7. NarrativeDx
NarrativeDx has developed a patient experience management tool that allows facilities to better understand and respond to patient feedback and concerns. It collects every comment about patient's experiences across internal focus groups, CAHPS Surveys, discharge surveys, social media comments and doctor review sites, and analyzes them to detect common themes. With the actionable insights NarrativeDx provides, providers can improve patient experience and satisfaction.
8. Seremedi
Seremedi's CareScriptions is a mobile app and software system that helps patients prepare and recover from medical treatments like surgery or cancer treatment. With CareScriptions, patients receive educational materials and personalized treatment instructions on their mobile devices, and report vital signs and symptoms in real-time so care teams can identify issues before they lead to complications. By enabling instant communication between care teams and patients before, during and after surgery, CareScriptions enables providers to monitor patients during the critical pre-operative and post-operative phases to ensure that procedures go smoothly.
9. Sway Health
Sway Health has created a system that enables providers to rapidly deliver behavior change services such as smoking cessation counseling, weight management, and depression screening to patients during normal office visits. These vital services are rarely performed by healthcare providers, but this tool makes it possible by streamlining and ensuring providers can get paid for it. Sway Health's tool helps screen patients before they enter the exam room, provides healthcare providers with recommendations during the check-up, and conducts follow-up after the patient has left the office. By digitizing screening, treatment planning, documentation and billing, Sway Health enables providers to counsel patients effectively, empowering them to take control of their wellness.
10. Tasso
Tasso is simplifying blood sampling and revolutionizing medical diagnostics. Tasso's HemoLinkTM system is a device that allows patients to collect their own blood samples at the push of a button and to send them to third-party labs to run a broad range of diagnostic tests. Tasso makes blood sampling simple, convenient and affordable.