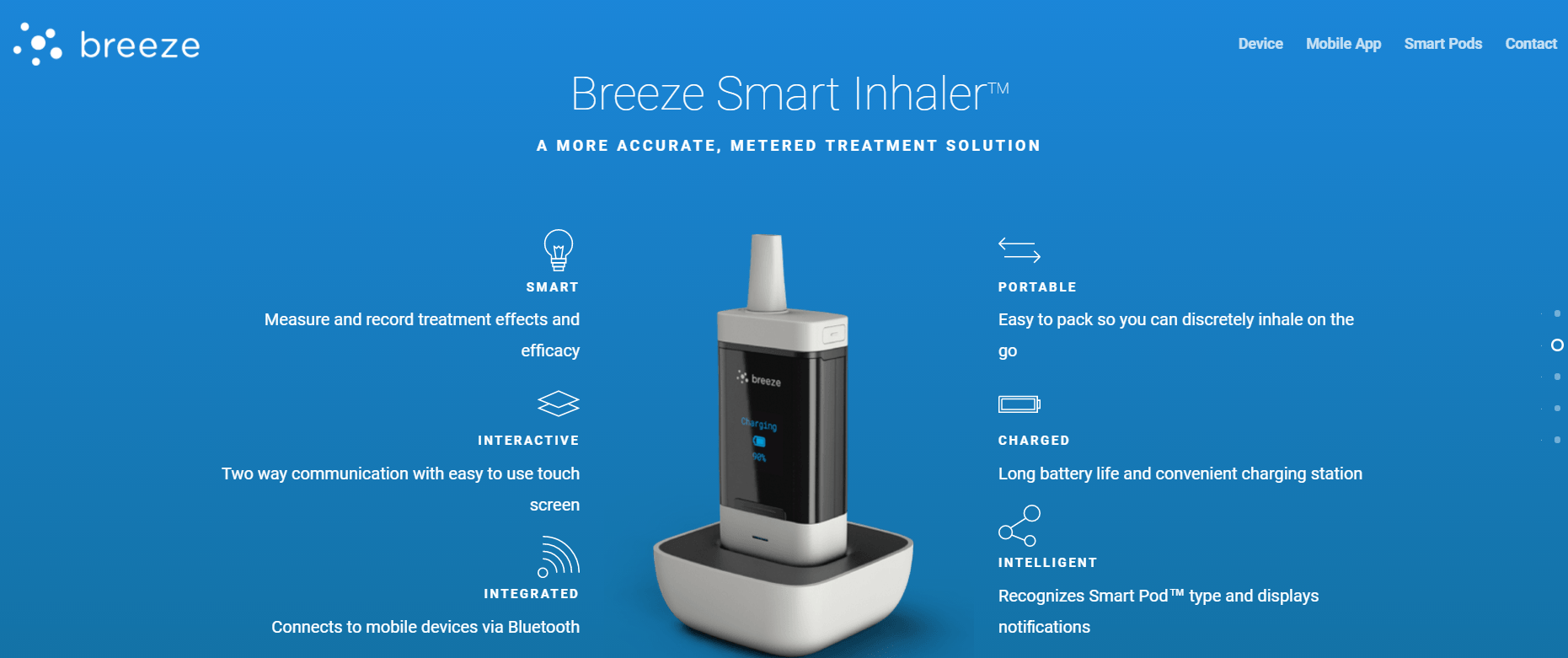 Resolve Digital Health, a Toronto, Canada-based digital health startup has raised $5 million in Series A funding led by Aphria Inc to launch the world's first smart inhaler for medical cannabis to help patients suffering from cancer, arthritis, migraine headaches, chronic pain and other diseases. The latest round marks the next phase in the company's development with the upcoming California launch of their debut medical device system, Breeze this spring at exclusive dispensary partners in California.
Resolve Digital Health plans to utilize the recent funding to establish a track record of patient success before expanding into additional key markets across the United States and Canada throughout 2017 and into 2018. The technology behind the smart inhaler has been in development since 2015, following an initial seed investment (35% stake) with CannaRoyalty Corp. Following the completion of the Series A financing with Aphria, CannaRoyalty will maintain 27.2% of the existing Resolve shares on a non-diluted basis.
How It Works
Unlike existing cannabis products, Breeze provides a more accurate, metered, treatment solution with pre-packaged, single use Smartpod filled with the highest quality cannabis buds or oil. The cannabis Smartpod™ is inserted into the Company's proprietary patent pending vaporizer. Each label contains genetic, origin, testing and expiration data formulated by top experts to care treat specific symptoms. 
The patient experience is tracked through a mobile app via bluetooth with all data securely stored for sharing with doctors, pharmacists and other caregivers.  The app tracks consumption, pod type, treatment time and efficacy including the effectiveness of each treatment. 
In recent years, growing awareness of the medical benefits of cannabis has spurred a rapid increase in the number of medicinal users. despite a dramatic increase in market awareness and acceptance, there remain numerous barriers to widespread adoption of cannabis as a credible, legitimate replacement or complement to pharmaceutical care.
With limited clinical research to validate the respective efficacy of the over 750 strains available, combined with inconsistent physician knowledge of dosing requirements, creates a volatile environment where standardization is needed most. Resolve's standardized pre-packaged pharma grade solution is a marked departure from the current unmetered solutions using unknown strains via uncontrolled delivery methods with no process or system to track or monitor dosage and usage.
"The need to standardize and systematize the patient experience is part of an industry evolution that is ready to 'grow up' and get serious," said Vic Neufeld , President & CEO of Aphria. "We know that patients are seeing the benefits of cannabis. We know they are eager to see solutions appear that are truly medical – with more than just superior strains, but superior technology delivering patient relief."