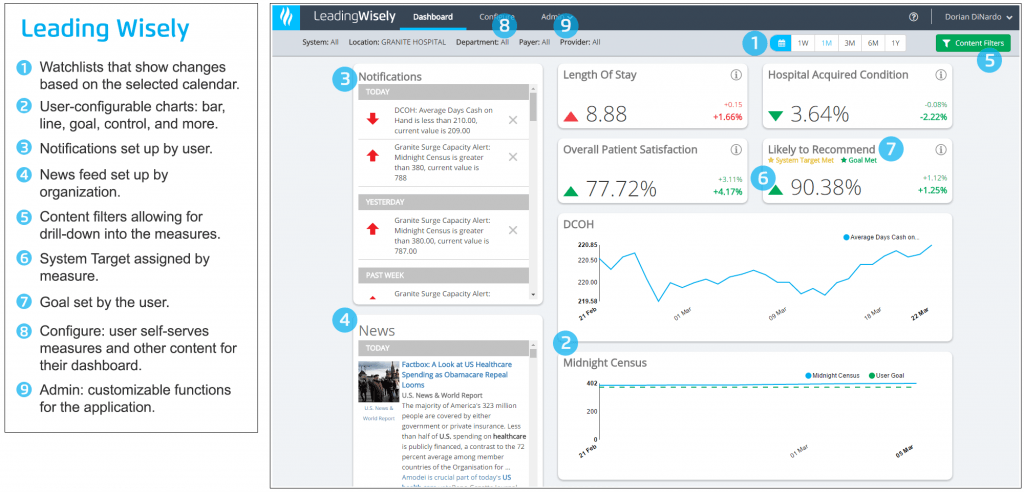 Health Catalyst, a Salt Lake City-based provider of healthcare data warehousing, analytics solutions and outcomes improvement has announced the release of their new executive decision support platform, Wisely.  The web-based solution automatically transforms over 100 sources of data in its data warehouse, key measures and goals from multiple business units into the fundamental insights critical to leadership. 
Traditionally, the process of collecting data to support decisions is both time-intensive and frustrating for healthcare organizations. Providers are forced to use creative workarounds that assimilate and align data from multiple sources, with results that often reflect a months'-long time lag. These approaches are resource-intensive and often miss the mark, leading to inconsistent date ranges, cohort selections and measure calculations. In the absence of trusted, current and actionable information, executives find it difficult to plan, delegate, engage their teams in solving issues, and to track progress by work groups.
To resolve this issue of providers drowning in data, Wisely combines and analyzes near real-time data from every available IT system and software program, and then enables users to customize information, share it with others, and set their own alerts and notifications. As a result, managers are empowered to take control of the data deluge to more effectively plan, prioritize improvement projects, create alignment among groups, strategize best solutions, and communicate decisions. 
Key features of Wisely include: 
– Choose, configure and display the balanced measures that best suit their objectives
– Set alert thresholds, and configure push notifications across teams for when data changes, without help from the IT department
– Set system targets and goals and track time to meet them with a single-source view of progress and outcomes
– Enable project integration and collaboration through built-in social communication and sharing features
– Drill down to department-level data to uncover the sources of variation
For healthcare leaders across the C-suite, Wisely can serve as invaluable tool to solve common problems  such as: 
– An alert set by the CEO calls his attention to a worrisome, real-time downward trend in days of cash on-hand. The CEO quickly reaches out to the CFO and operating unit leaders to address the trend to prevent a bond downgrade by bond rating agencies who are visiting in three months. This prevents adding millions to the cost of acquiring new capital.
– The CFO is notified of a problematic rise in accounts receivable (or an increase in costs, or declining revenue). Using Leading Wisely, she is able to quickly uncover the root cause and reverse the trend. 
– The COO notices an upward trend in surgery revenue at one of the system's five regional medical centers. Drilling into the data, she learns this is due to a significant improvement in Operating Room turnover time following an improvement project resulting in greater productivity and increased revenue. She connects the surgery director with surgery directors at the other four centers and quickly spreads the best practice across the system.  
"Why settle for a good-enough decision when truly automated and personalized decision support is now available to uncover the right decision at the right time?" asked Dale Sanders, executive vice president of product development for Health Catalyst. "Unlike traditional dashboards or static reports, Leading Wisely helps executives and their teams avoid being blindsided by unexpected information and gives them control over their data with self-service alerts and notifications that they can customize for any purpose. Now they can filter through the thousands of measures available to easily find, track, follow-up on, and share those measures that are most meaningful to their roles or their teams, and that will have the greatest impact on performance."