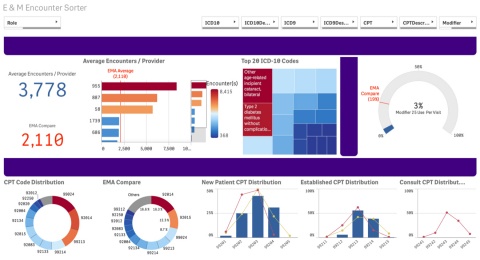 Specialty-specific EMR provider, Modernizing Medicine has unveiled data analytics and Apple Watch functionality to its specialty suite of products and services designed to improve quality reporting and increase physician mobility. Announced during the company's third annual user conference, MOMENTUM, the new analytics enhancements  gives physicians near real-time population health data to help support the transition to value-based healthcare.
Analytics Key Features
From patient check-in to discharge, Analytics is designed to allow specialists to identify and track key clinical, financial and operational metrics to uncover insights to help optimize their practice, plus measure and enhance performance by making high-quality medical decisions and helping to keep costs down. Without leaving EMA, in Analytics physicians can have the ability to:
– Unlock in-depth clinical data, billing and financial reports to augment the built-in reporting tools in EMA and Practice Management
– View real-time, national benchmarking
– Spot and respond to trends in payment patterns
– Compare outcomes and performance with other providers
– View changes, payments and adjustments by payer groups
– Identify trends in reimbursement patterns before they affect cash flow
At the users' conference, some clients saw real-time client data for the first time, whereas others touted the benefits of already using Analytics.
"Running a medical practice, you are only as good as the clinical, operational or financial data you can review to benchmark your performance," shares Tom McNeil, chief executive officer of Premier Dermatology, a 15 provider group with multiple locations throughout the greater Sarasota, Florida area. "With Analytics, I can show our partners real time benchmarking within our group and compare it with CMS and other data. We utilize the Analytics dashboard frequently, which gives us the ability to focus on the specific data we want to see on a daily, weekly and monthly basis. Having access to these detailed reports can help us to identify areas within the practice that need improvement and highlight the areas where we're succeeding."
Apple Watch App
In addition, Modernizing Medicine has launched a new Apple Watch app that allowing users will be able to view scheduling to provide insight into the day's agenda, including which patients are coming in, what time the appointments are and which rooms patients are in; Intramail; viewing Notes; and more. The Apple Watch app functionality is facilitated through modmed Pocket Practice™, a native iOS smartphone app.
"These significant advancements in healthcare technology can help specialty physicians retain their independence by providing them with tools to support running profitable businesses that deliver optimal patient care," said Daniel Cane, CEO and co-founder of Modernizing Medicine in a statement.