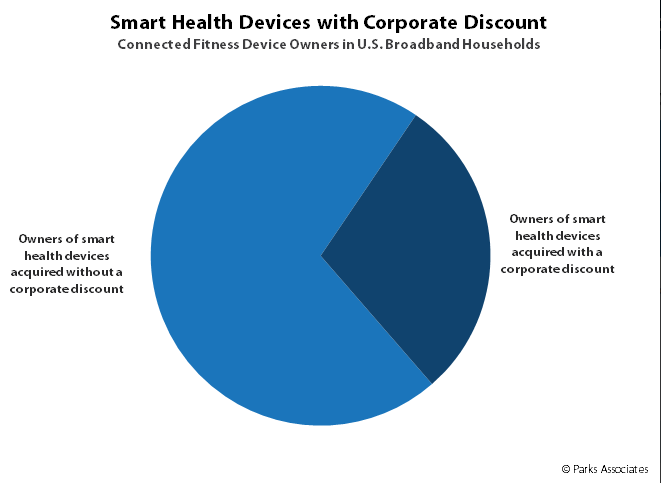 Consumer willingness to share their personal health data in exchange for a health insurance discount varies by device used, ranging from 42% of digital pedometer owners to only 26% of those with a sleep-quality monitor, according to recent Digital health research from Parks Associates. Among smart watch owners, 35% are willing to share data from their device for a health insurance discount. Parks Associates report, Digitally Fit: Products and Services for Connected Consumers  assesses consumer willingness to share data generated by smart health devices and the potential for various incentives to boost consumer willingness to share data.  Global revenues from connected fitness trackers is also expected to increase from over $2 billion in 2014 to $5.4 billion by 2019. It also explores privacy concerns as a potential inhibitor to smart health device adoption and the extent to which privacy guarantees can alleviate such concerns.
"Monetary rewards are generally considered among the strongest incentives to generate consumer response, but the majority of connected health consumers are not ready to share their data in exchange for discounts on services or products at this time," said Jennifer Kent, Director, Research Quality & Product Development, Parks Associates. "More consumers are willing to share data to troubleshoot device problems, suggesting benefits that ensure owners get the full advantages of their products could be more enticing."
Additional Parks Associates mobile research finds:
– 50% of U.S. broadband households use an online health tool to communicate with their doctor, access personal health data, or fill prescriptions
– Smart watch sales will exceed 100 million units in 2019
– Over 80% of U.S. mobile subscriptions will be 4G LTE by 2018
– 19% of smartphone owners find a master health app that aggregates data from all health apps very appealing. 
"Access to consumer health data streams combined with open API strategies make partnerships that add business value and value to the end user more feasible," Kent said. "However, when evaluating partners, companies in the healthcare space must keep consumer privacy top of mind. Parks Associates research finds 35% of consumers in U.S. broadband households are very concerned that their personal health information will not remain confidential."