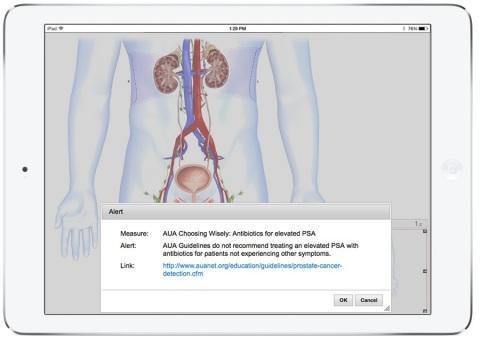 Specialty practice EMR provider, Modernizing Medicine, Inc. has announced that it has incorporated the American Urological Association's (AUA) 2013 Choosing Wisely® list in EMA Urology. EMA Urology was developed by urologists for urologists as a native iPad application with intuitive touch-screen functionality to give doctors a streamlined, efficient EMR system experience while improving the physician and patient relationship. It is the first urology-specific EMR system to incorporate the AUA's statements.
Choosing Wisely Overview
Choosing Wisely is an initiative of the ABIM Foundation that calls upon leading medical specialty societies and other non-physician organizations to identify tests or procedures commonly used in their field whose necessity should be questioned and discussed in order to improve quality of care and cut costs.
Workflow Integration Enhancements
Integrating the Choosing Wisely statements directly into EMA Urology's workflow can help to avoid wasteful or unnecessary medical tests, treatments and procedures by promoting conversations between clinicians and patients to choose care that is:
– Supported by evidence
– Not duplicative of other tests or procedures already received
– Free from harm
– Truly necessary
"The guidelines and specialty lists are both a step toward greater patient engagement in healthcare and a means to help improve care while eliminating unnecessary procedures and costs," said Dan Cane, Modernizing Medicine's CEO. "That initiative aligns with Modernizing Medicine's mission and the other benefits already built in to EMA Urology to help physicians achieve better outcomes."
With the statements built into EMA Urology's workflow, physicians are cued when to have conversations with patients during an exam. "This helps urologists to not miss those opportunities to engage more with patients and involve them in their own care," said Nadeem Dhanani, MD, MPH, Medical Director of EMA Urology. "EMA Urology already goes a long way to improve the doctor-patient relationship, but adding the urology-specific questions is one more positive boost to patient engagement and quality care."
EMA Urology is template-free and cloud-based, enabling almost anywhere, anytime access, as well as easy software updates. Smart phone access to EMA Urology provides users with even greater mobility.