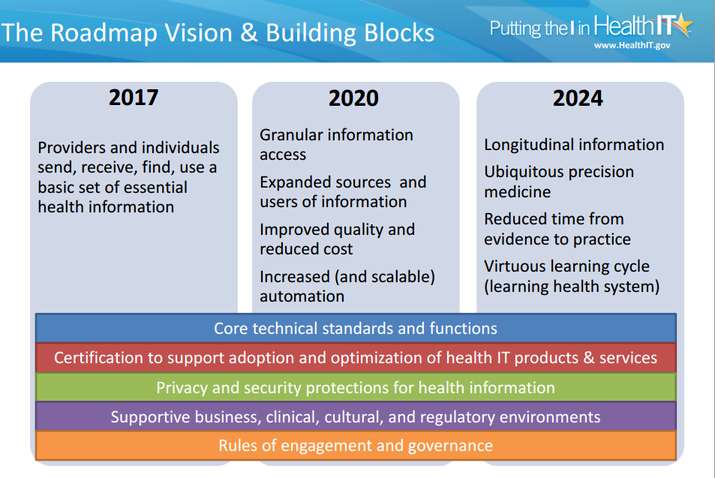 On Wednesday, the Office of the National Coordinator for Health Information Technology (ONC) held the first joint meeting of the Health Information Technology Policy and Standards Committees to discuss future of interoperability in healthcare. During the meeting, the ONC presented some of the early strategic elements of the draft interoperability roadmap proposing key near-term actions and milestones for many of the 3, 6, and 10 year goals. The elements are structured around five critical building blocks for a nationwide interoperable health IT infrastructure:  
– Core technical standards and functions
– Certification to support adoption and optimization of health IT products and services
– Privacy and security protections for health information
– Supportive business, clinical, and regulatory environments
– Rules of engagement and governance  
"We have heard loudly and clearly that interoperability is a national priority, and that there is value in this effort spearheaded by ONC as the federal government's coordinator of health IT policy. It is also apparent that there is enthusiasm, capability and a willingness to cooperate and collaborate in ways not previously seen. We are invigorated by the collaborative energy we have seen and experienced over the few months by those who have leaned forward with us," Karen DeSalvo, ONC National Coordinator stated in a recent ONC blog post.
Draft Health IT Ecosystem Goals
Stakeholder
2014-2017
2017-2020
2020-2024
Individual 

Send, receive, find, and use




electronic health information

Electronically contribute to and correct




their health information; access shared




care plans in standardized electronic




format




• Increased access to longitudinal health




information

• Regularly track and share electronic




information from wearable,




implantable, biometric medical




devices




• Increased access to longitudinal




health information

Provider

Send, receive, find and use the
common MU data set for all
patients
• Receive electronic notifications
when individuals are admitted to
or discharged from inpatient care
Increased granular access to specific
health information when/where needed
• Automated tools that effectively use
electronic clinical data from multiple
sources for quality improvement and
decision support across care continuum
• Seamless remote monitoring and care
for through remote devices
• Increased access to longitudinal
health information
• Care tailored precisely to each
individual based on information
about environment, occupation,
human services, genomic data,
cutting edge research evidence, etc.

Population & Public

Information contained in the
common MU data set aggregated
across communities for
population health and quality
measurement
• Research community accesses
aggregations of EHR data in pilots
• Notifications based on relevant
information are shared seamlessly
Clinical and administrative data
normalized and aggregated across
communities to support broad scale
value-based payment models
• Research community accesses
aggregations of standardized EHR data
for ongoing research
• Public health and other clinical registries
receive and make available broad suite
of standardized data for use by
authorized individuals
Research community has access to
large aggregations of standardized
genomic and device data for
research purposes
• Public health better contains
outbreaks and proactively manages
disasters with electronic information
from many sources
The draft roadmap is scheduled to be finalized by January 2015 for public comment with the approved version slated for March 2015. 
The early draft material of the interoperability roadmap is available for view/download here