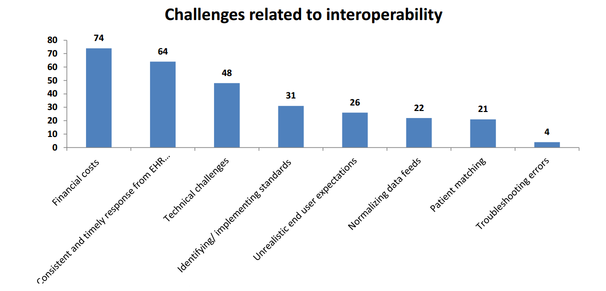 Cost and technical challenges are key barriers to interoperability for healthcare organizations, according to the latest 2014 eHealth Initiative poll results on health data exchange. In its 11th annual survey 135 organizations including 74 community-based HIOs, 25 statewide efforts, 26 healthcare delivery organizations were polled on:
– Interoperability
– Data Use and Access
– Clinical and business motivators
Respondents identified the following top three challenges/barriers to interoperability:
– Financial costs of building interfaces (74 percent)
– Getting consistent and timely response from EHR vendor interface developers (64 percent)
– Technical difficulty of building interfaces (48 percent)  
Healthcare organizations are continuing to sruggling with the management of multiple interfaces as they work share data across disparate systems. 62 percent of respondents interface with an average of 2 to 10 different EHR vendors. 18 healthcare organizations have had to build more than 25 interfaces. 
"It is like we are starting from scratch every time," said Kevin Stambaugh, director of Physician e-Services of Intermountain Healthcare in Utah expressing his frustration with interfaces during the webinar panel  of HIE executives responding to the survey (Hall/Fierce HIT, 10/9/14). 
Overcoming Interoperability Challenges
Respondents identified 5 potential solutions for overcoming interoperability challenges:
– Standardized pricing and integration solutions from vendors (62 percent)
– Technology platforms capable of "plug and play" (54 percent)
– Federally mandated standards (51 percent)
– Cultural changes resulting in a greater desire to share electronic healthcare data (47 percent) 
– Greater use among providers of consensus-based standards for data, vocabulary, and transport (43 percent)
Regulatory Policies Prompt  Use of Core HIE Services
Regulatory policies appear to have prompted increased use of core HIE services such as Direct, care summary exchange, and transitions of care. Three-quarters of respondents (101) incorporate secure messaging into their data exchange models. 81 respondents report their users access data through secure messaging.  
Other key findings include:
– 85 respondents have implemented notification/alerting services to support transitions of care
– 108 respondents offered care summary exchange as a service
– 74 respondents offer reporting to immunization registries
– 64 support an ACO
– 52 support a patient-centered medical home
– 21 support a State Innovation Model (SIM)
– 12 support a bundled payment initiative
For more information, see the entire survey finding here